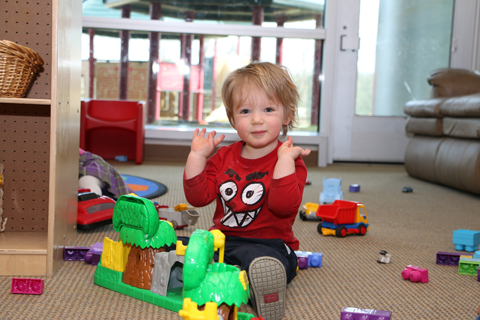 The Lowry Center on Oakland University's campus fosters the cognitive, creative and physical growth and development of children 18 moths to 5 years old.

by Kelli M. Titus

Books, toys and open-ended, hands-on materials used to stimulate and support young minds display their vibrant colors and textures within the
Lowry Center
at Oakland University — a facility that not only teaches children, but provides unique learning opportunities for undergraduate and graduate students.
Serving 150 children, Lowry is a thriving learning center that fosters the cognitive, creative and physical growth and development of children 18 months to 5 years old. Classes run throughout the academic year, from September to June, to accommodate undergraduate and graduate students involved with the center through the
School of Education and Human Services
.
"Our purpose is to educate children, and be a training site for teachers and other occupations, facilitate research and provide community service," said Dr. Julie Ricks-Doneen, faculty director of the Lowry Center.
Opportunities for OU Students
Graduate and undergraduate students with majors in teaching, music, social work, linguistics and athletics, among others, visit the Lowry Center to learn how to work with children, analyze learning patterns and research teaching methods. This involvement helps develop a strong sense of community in which participants are focused on the children.
"Oakland University provided me with the tools and resources to grow successfully in my career," said Sarah Schraffenberger, head toddler teacher at the Lowry Center.
Schraffenberger graduated from OU in 2006 with a degree in
elementary education
. As a student, she worked at the Lowry Center and spent most of her time interacting and playing with the toddlers, setting up activities and changing diapers. Eight years later, she is running one of the facility's toddler rooms.
Lowry is an inclusive facility, serving children who have a wide range of developmental and learning needs in a child-centered, active learning curriculum to cultivate growth in all developmental areas.
Educating Children
Teachers at the Lowry Center are equipped with specialized training and degrees in early childhood education, allowing them to adapt to a variety of roles including designing developmentally appropriate curriculum; supervising and mentoring student staff, student teachers and volunteers; teaching at OU or local colleges; and participating in research projects conducted by OU faculty and students.
"It's a very different approach that takes some teacher knowledge and understanding of child development and how to integrate those pieces of the curriculum into the classroom," Ricks-Doneen said.
Lowry students are provided abundant space to learn and grow with six classrooms, three playgrounds and bathrooms that accommodate the specific needs of each age. The lush grounds at OU allow children to take walks and explore the campus. The lab-school's building, housed in the School of Education and Human Service's Pawley Hall, is an auxiliary, self-supporting unit.
The stimulation and learning opportunities at the Lowry Center provide support for a strong self-esteem, inclusion with diversity, growth in trust and autonomy, and the development of a sense of curiosity and desire to learn.
To learn more about the Lowry Center for Early Childhood Education and the programs and services it provides, visit
oakland.edu/lowry
.
The Lowry Center for Early Childhood Education nurtures young minds while providing learning opportunities for OU students.

Created by Colleen Campbell (cjcampbell@oakland.edu) on Friday, September 12, 2014
Modified by Colleen Campbell (cjcampbell@oakland.edu) on Thursday, September 25, 2014
Article Start Date: Friday, September 12, 2014