Monday, September 8, 2014
Nominations being accepted for 27th annual Nightingale Awards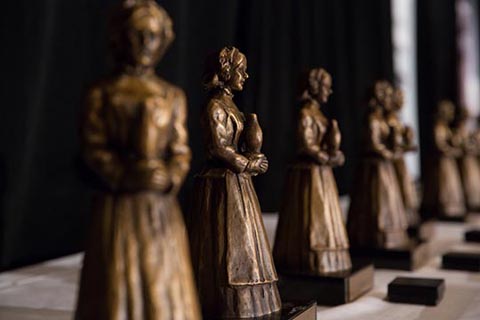 The Oakland University School of Nursing is now accepting nominations for the 27th Annual Nightingale Awards for Nursing Excellence®, which will be held on May 7, 2015 at the San Marino Banquet Center in Troy.

This prestigious awards ceremony is the only one of its kind in the state to honor exceptional nurses and the nursing profession.

Nursing is a critical part of our health care delivery system, and there is no shortage of exceptional nursing professionals and people who have been touched by their compassion and care. Deserving nurses from across Michigan can be nominated in the following areas:
Administration
Advanced Nurse Practice
Education and Research
Long Term Care and Rehabilitation
Nursing in the Community
Staff Nurse Practice (up to 10 awards may be presented)

Southeast Michigan (2)
Southwest Michigan (1)
Central Michigan (1)
Northern Michigan (1)
OU Distinguished Alumni Award
People's Choice Award
Awards in the first seven categories are given based on nurses' achievements and community and professional involvement and are nominated by the nurse's peers, colleagues or other health care professionals.

Candidates for the People's Choice award may be nominated by anyone in a community to recognize a nurse whose exceptional care has had a personal, lasting effect in another's life. The individual nominating a nurse for the People's Choice award does not have to be a health care professional.

The 25 winners and runners-up will be honored publicly at the 27th Annual Nightingale Awards for Nursing event. Winners will receive a solid bronze statue of Florence Nightingale, a $1,000 check and Nightingale pin. Runners-up will receive a plaque and pin. All nominated nurses will receive a certificate of honor.

Nomination forms are available on the Oakland University School of Nursing website at oakland.edu/nightingale and must be received by February 2, 2015. Nominations received on or after February 3, 2015 will be considered for the 2016 awards. All nominations are reviewed and rated by a committee of individuals comprised of nurses from various hospital affiliations and members of the School of Nursing Board of Visitors.

Those interested in submitting nominations can do so by mail to the Oakland University School of Nursing, Nightingale Nominations, Attention: Ashley Samson, 3057 Human Health Building, Rochester, MI, 48309 or via email at samson@oakland.edu.
The Oakland University School of Nursing is now accepting nominations for the 27th Annual Nightingale Awards for Nursing Excellence®

Created by Eric Reikowski (esreikow@oakland.edu) on Monday, September 8, 2014
Modified by Colleen Campbell (cjcampbell@oakland.edu) on Tuesday, September 9, 2014
Article Start Date: Monday, September 8, 2014