Friday, September 5, 2014
Inaugural fall homecoming invites present, past grizzlies to gather to celebrate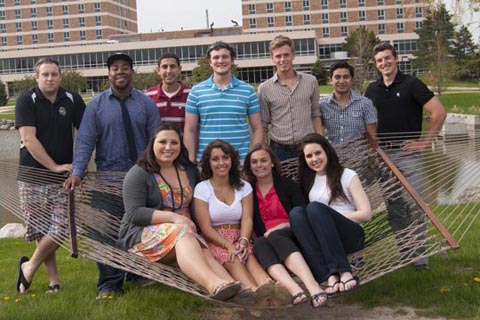 Student leaders are invited to a VIP reception during Oakland University's inaugural fall homecoming on Saturday, Sept. 20.

Oakland University's inaugural fall homecoming celebration, set for Sept. 19-21, promises plenty of golden grizzly spirit, fun and laughs as OU students, faculty, staff, alumni, retirees and friends gather for a weekend of family-friendly campus events and activities.

"I cannot think of a more opportune time to come home to Oakland University and see the awesome changes to campus," said Jean Ann Miller, director of the Center for Student Activities and Leadership Development.

"Meet a new president, see new buildings, hear the Elliott Tower chiming, reacquaint with old friends and make new ones, and pick up some OU swag with the new logo. Attending OU's first-ever fall homecoming is experiencing college life like it is meant to be, with lots of excitement and enthusiasm."

VIP Reunion Celebrating 57 Years of Student Leaders

One of the featured events is a VIP reunion "very important party for very important people" celebrating 57 years of OU student leaders.

The event, which will be held on Saturday, September 20, from 7-10 p.m., welcomes all former resident assistants, hall directors, night watch staff, executive board members from RHC/RHA, Oakland University Student Congress, Student Program Board, Student Activities Funding Board, Student Video Productions, The Oakland Post/The Oakland Sail, WXOU, Student Life Lecture Board, Greek fraternities and sororities, and other student leaders involved in student life and housing.

Former leaders will network, reconnect with OU faculty and staff, and meet current student leaders for an evening of mingling, music, munchies and memories. A cash bar will be available.

To R.S.V.P., register at grizzlink.oualumni.com/homecomingstudentleaders2014. For additional information, please contact jam@oakland.edu or (248) 370-2400.


Featured Events:

See the full event schedule at
oakland.edu/homecoming
.
Retired OU Faculty and Staff Reunion Lunch

Gold Rooms, OC
1 - 3 p.m.
Complimentary, registration requested

Share a meal with your former colleagues to get-together and reminisce about the 'good ole days'. Please contact Angie Schmucker (248)370-3698 for more information. Email your reservation to schmucke@oakland.edu.
Golden Grizzly 24-Hour Filmmaking Challenge - Check-in and Challenge Start

Pioneer Food Court, main hallway, Oakland Center 3– 5 p.m. No cost to register

Showcase your creative skills and test your endurance in this around-the-clock filmmaking project, in which teams of three or four will shoot and edit an original short film. No previous filmmaking or video editing experience required; OU Cinema Studies faculty and students will be present to offer technical and logistical assistance. Teams will have access to OU Cinema Studies video equipment and digital editing lab space. Contact Kyle Edwards atedwards2@oakland.edu for more information or to pre-register.
Elliott Tower Dedication

4 p.m.
Complimentary, registration requested

Gather at the base of the Elliott Tower with fellow alumni and members of the Oakland University community for a celebratory program dedicating the tower. Dedication will be at 4 p.m. Reception immediately following the dedication. Thank you to the Elliott family for their generous gift.

To register, go to oakland.edu/tower-rsvp.
20th Annual OUAA Alumni Awards Banquet - Reception, Dinner and Awards Presentation

Extended Food Court and Banquet Rooms, Oakland Center
6 - 9 p.m.
$100 per person, Class of 1964 - free with wristband
Registration

The Oakland University Alumni Association hosts the 20th Annual Alumni Awards Banquet honoring those who have achieved success in business, community service, volunteerism and more. Contact Office of Alumni Engagement (248) 364-6130 for more information.
Friday Night Live Featuring Comedian Paul Varghese

Vandenberg Dining Center, Vandenberg Hall
7 - 8 p.m.
Complimentary

Enjoy comedian Paul Varghese, a Dallas, Texas native, who appeared on the hit reality show Last Comic Standing 2, where he made it to the semi-finals. This funny man will make you laugh! Sponsored by Residence Halls Association. Contact Jean Ann Miller (248) 370-2400 for more information.
Island Fest

North side of the Oakland Center
8 - 10 p.m.
Complimentary

Join us for an amazing experience as we bring the islands to you. There will be exotic performances, awesome food, and fun to be had by all as SPB kicks off Fall Homecoming 2014! Sponsored by the Student Program Board. Contact Jean Ann Miller (248)370-2400 for more information.
Saturday, Sept. 20
Oak View Hall and Honors College Grand Opening

Main Entrance
11 a.m.
Complimentary

Join us for the ceremonial opening of the new student residence hall - Oak View Hall, home of the new Honors College. Reception and tours immediately following the program. Contact Susan Scrafano (248) 370-4908 for more information. Please RSVP to attend@oakland.edu.
OUAA Family Festival

Recreation Center, 3-Court Gym
2:30 p.m. – 4:30 pm
Complimentary

This family friendly event is an annual favorite for alumni and their families! Enjoy inflatable attractions like the bounce house and bungee run, face painting, music, lunch and more! Registration is not required. Contact Executive Events (248) 370-4917 for more information.
Homecoming BBQ

Lower Deck, P29 parking structure

2:30 – 4:30 p.m.
Complimentary

The grills are ready for you to join your fellow alumni and their families, along with members of the OU community, at the Homecoming BBQ; great food and fun for all. Follow the Piston's Drumline from the BBQ tent down to the lower fields for the men's soccer game. General parking is available in P26 with handicap parking in the P29 parking structure, 1st level street side. Contact Executive Events (248) 370-4915 for more information.
OUSC Tailgate Party

Upper Deck, P29 parking structure
2 – 5 p.m.
Complimentary

All are welcome to tailgate before the OU Men's Soccer game on the upper deck of the P29 parking structure with live music, free food, games and giveaways. Sponsored by Oakland University Student Congress. Contact Jean Ann Miller (248) 370-2400 for more information.
OU's Music, Theatre and Dance Performance - "Black and Gold"

7:30 p.m. – 8:30 p.m.
Complimentary

Help us establish an exciting tradition for Oakland's new Fall Homecoming and Reunion Weekend. Come join us for our Black and Gold performing arts extravaganza! Meet at the base of the new Elliott Tower at 7:30 p.m. and travel with us across campus to Varner Recital Hall. This is part of the 2015 Arts at OU series which is sponsored by the Oakland University Credit Union. Contact Jackie Wiggins (248) 370-2030 for more information. Admission is free.
Sunday, Sept. 21
Golden Grizzlies Homecoming Fun Run

Registration/packet pick-up, and finish line - Athletic Center
8 – 9:15 a.m., Race begins at 9:30 a.m.
Register by September 15: OU Students, with ID - $15.00 General public - $20.00
Register after September 15: Increase of $5.00

Join fellow runners in this 4K run (2.5 miles) around the OU campus; all ages welcome. Awards ceremony immediately following the race in the O'rena. Forms may be picked up in the athletic center. Contact Paul Rice at (248) 370-4000 to register and for more information.
Click here for the registration form.
A featured homecoming event will celebrate 57 years of student leaders with a VIP reception during the weekend of celebrations Sept. 19-21.

Created by Colleen Campbell (cjcampbell@oakland.edu) on Friday, September 5, 2014
Modified by Colleen Campbell (cjcampbell@oakland.edu) on Wednesday, September 10, 2014
Article Start Date: Friday, September 5, 2014