Thursday, August 28, 2014
Cinema Studies students to use iOgrapher equipment for iPads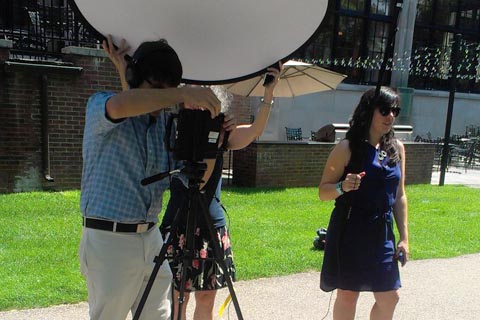 Professors Adam Gould, Andrea Eis and Courtney Brannon Donoghue operate the iOgrapher equipment for Dean Kevin Corcoran's ice bucket challenge. The equipment will be used in Cinema Studies courses and the Golden Grizzly 24 Hour Filmmaking Challenge this Homecoming. Dean Corcoran completed the challenge during a department retreat.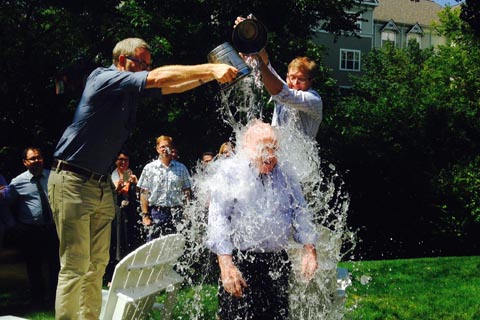 Oakland University's
Cinema Studies
faculty tested out new filming equipment when Kevin Corcoran, dean of the College of Arts and Sciences, was challenged to the ALS ice bucket challenge.

"The ice bucket shoot with Dean Corcoran was a lot of fun and offered us the chance to test some of this new equipment, including the iPad with iOgrapher attachment, lens accessories, and shotgun mic with boom pole," said Kyle Edwards, director of OU's Cinema Studies program.


The equipment will be integrated into some of the cinema studies production classes to complement the more advanced video and audio technology that students use. It will also be available for select critical studies that offer students the opportunity to produce creative projects.


For example, Professor Hunter Vaughan will be teaching Film and Social Change in winter 2015 where students will begin the semester by investigating film as an agent of social change and then use the iPads to shoot and edit short documentary videos that examine local political and social issues.


Participants in the upcoming Golden Grizzly 24 Hour Filmmaking Challenge during Homecoming and Reunion Weekend (Sept. 19-21) will also have the opportunity to use the iPad and accessories to create short films for the challenge. The event is open to OU students and alumni. Learn more about Homecoming or sign up for the challenge.


See more photos and keep up with Cinema Studies on Facebook
Faculty tested out the new filming gear when Kevin Corcoran, dean of the College of Arts and Sciences, completed the ALS Ice Bucket Challenge.

Created by Colleen Campbell (cjcampbell@oakland.edu) on Thursday, August 28, 2014
Modified by Colleen Campbell (cjcampbell@oakland.edu) on Thursday, August 28, 2014
Article Start Date: Thursday, August 28, 2014