Tuesday, August 26, 2014
Fall semester kicks off with Welcome Week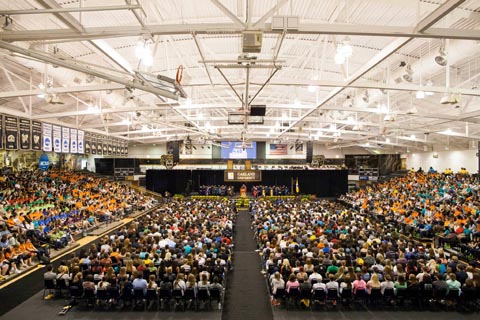 New Student Convocation, the official start of a student's academic career, will be held on Tuesday, Sept. 2.
The Oakland University community will usher in a new semester with a fun-filled lineup of events during
Welcome Week
. Set for Sept. 2 – Sept.13, 2014, the week will offer many opportunities for students to enjoy a festive atmosphere, meet new friends and learn about campus resources.
"OU's campus life is alive and well with lots of diverse events to welcome our new and returning students back for the new school year," said Jean Ann Miller, director of the Center for Student Activities and Leadership Development. "There's something for everyone – receptions, picnics, food and games, student organization fairs, live music, giveaways and open houses. Aspire to get involved while at OU!"
Welcome Week highlights include:
Tuesday, Sept. 2
New Student Convocation
3-4 p.m.
O'rena, Recreation and Athletics Center
New students: Confirm your attendance
Involvement Fair
4-5 p.m.
tent in parking lot P-16

Monday, Sept. 8
Sigma Pi Fraternity's 20th annual Pig Roast
5 p.m.
north side of the Oakland Center

Student Program Board's annual Carnival
5 p.m.
north side of the Oakland Center

Tuesday, Sept. 9

Center for Student Activities "Super Grizz Fest" for Student and Greek Organizations, Club Sports, Community Businesses and Volunteer Opportunities
11 a.m. – 2 p.m.
mall in front of Kresge Library

In addition, NASH FM 93.1 will host their College Invasion Tour on OU's campus Wednesday, Sept. 10, as part of the Student-Athlete Advisory Committee's "Sweets, Treats and Grizzly Beats" event from 7-9 p.m., on the north side of the Oakland Center. Australian hip-hop sensation Iggy Azalea will headline the Oakland University Student Program Board's fall concert, along with special guest MAGIC!, on Friday, Sept. 12 at the Meadow Brook Music Festival on OU's campus. Tickets are still available for OU students and can be purchased (with valid student ID) at the CSA Service Window, located on the lower level of the Oakland Center.

For a complete listing of Welcome Week events and activities, check out oakland.edu/welcomeweek. Stay on top of campus construction trends, with up-to-date parking and traffic information at oakland.edu/parking and maps of campus at oakland.edu/map.
The OU community will return to campus and kick off the fall 2014 semester with dozens of fun-filled events during Welcome Week from Sept. 2-13.

Created by Eric Reikowski (esreikow@oakland.edu) on Tuesday, August 26, 2014
Modified by Eric Reikowski (esreikow@oakland.edu) on Friday, September 5, 2014
Article Start Date: Tuesday, August 26, 2014