Friday, August 22, 2014
P-16 will be closed Aug. 26-Sept. 2 for Orientation Part II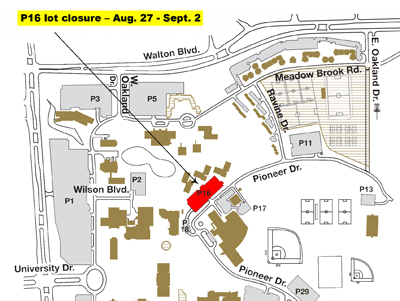 The P-16 parking lot – located between O'Dowd Hall and Fitzgerald, Anibal and Pryale houses – will be closed in preparation for and during Orientation Part II.
The entire P-16 lot will be closed at 11:59 p.m. on Tuesday, Aug. 26, and will remain closed through the evening of Tuesday, Sept. 2. The lot will reopen for normal use starting on the first full day of fall 2014 classes, Wednesday, Sept. 3.
Campus community members accustomed to using the P-16 parking lot should plan ahead to utilize alternative lots.


Created by Colleen Campbell (cjcampbell@oakland.edu) on Friday, August 22, 2014
Modified by Colleen Campbell (cjcampbell@oakland.edu) on Wednesday, September 3, 2014
Article Start Date: Friday, August 22, 2014