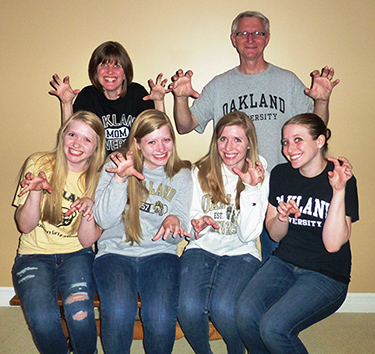 Martin and Susan Paula have lots of Grizzly pride as parents of (left to right) Julie Paula, Ruth Paula, Emily Paula, and Mary (Paula) Root.
While Martin and Susan are not alumni, their daughters' experiences at Oakland have inspired both parents to embrace the University. Susan volunteered on a parent panel for orientation, and Martin wears OU gear with pride while traveling for work.
Mary (Paula) Root graduated in 2010 with Bachelors of Science in Nursing and now attends campus events as an alumna. An avid basketball fan, her favorite OU memories are road trips to March Madness games in Wisconsin and Oklahoma with her sister Emily. Mary could often be found in the campus Rec Center or studying at Cafe O'Bears in the Oakland Center and says, "it would be great to have my children keep the family tradition going by attending OU, I received a wonderful education."
Emily Paula graduated from the Honors College in April 2012 with a BS in Business Administration and Human Resource Management with minors in Biology and Spanish. She expects to graduate in April 2015 with her MBA in Human Resources Management. Emily stays involved with OU through alumni events, grad school classes and working on campus as a recruiter for Chrysler. In addition to the March Madness road trips with her sister Mary, Emily enjoyed attending OU Homecoming, Meadowbrook Ball, and volunteering with Gear Up (Gaining Early Awareness and Readiness for Undergraduate Programs), bringing her knowledge of the Spanish language to approximately 750 ninth graders in the Oak Park and Pontiac School Districts. She looks forward to encouraging her children to someday become Grizzlies as well.
Ruth Paula anticipates graduating in April 2016 with a degree in Human Resource Development and minors in Biology and Spanish. She has met some of her best friends as an OU student, and loved attending fall Welcome Week activities (in particular the SPB Carnival), going to OU basketball games with her sisters, hanging out in Cafe O'Bears, and touring Meadowbrook Hall. Ruth will be working on campus this fall as a Leadership Consultant and Admissions Ambassador. She is involved with the Intervarsity Christian Fellowship and enjoys participating in Center for Student Activities Seasons of Service. She is also in the OU Honors College. Her decision to attend OU was independent of her older sisters, but they have helped her with scheduling, purchasing textbooks and, of course, sisterly advice!
Julie Paula begins her OU adventure this September and anticipates graduating in April 2018. She starts campus as a member of the Honors College and ready to explore what other opportunities may be available. She currently plans to pursue a Business Administration Degree in Human Resource Management.
Martin and Susan Paula say "OU has offered many opportunities to our girls. Not only has the education been solid, but many staff members have gone out of their way to assist the girls in achieving their goals and sometimes adjusting them. There were plenty of extracurricular activities, we think it is as safe as a public university can get, and the graduates are employed in fields they love (isn't that the goal?)."
"The girls have participated in events that were amazing experiences - presidential debates, road trips for March Madness, formal dances in the Meadowbrook Hall mansion, international celebrations, special lectures and of course study sessions and group projects. Each of these has helped expand their perspective and enhance their education beyond the classroom."
Susan had the opportunity to serve on a parent panel for incoming freshman one year and enjoyed sharing her perspective. One of Marty's favorite memories was when he was on a business trip wearing an OU t-shirt and someone from out of state recognized OU from the March Madness competition!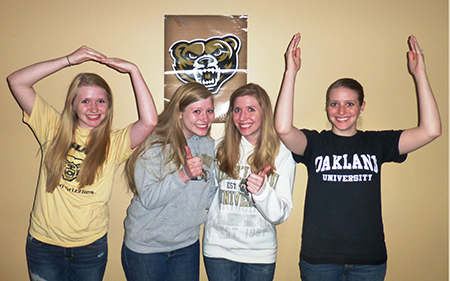 (left to right) Julie Paula, Ruth Paula, Emily Paula, and Mary (Paula) Root.
Does your family have an OU connection? We are looking for families to tell their OU story! This could mean multiple generations who attended OU or are currently attending, or even a non-alumni family member who became involved with OU when their student enrolled.
Email a brief explanation of why your family should be featured to parents@oakland.edu. If your family is chosen, we will contact you for more information and send you a thank you gift!