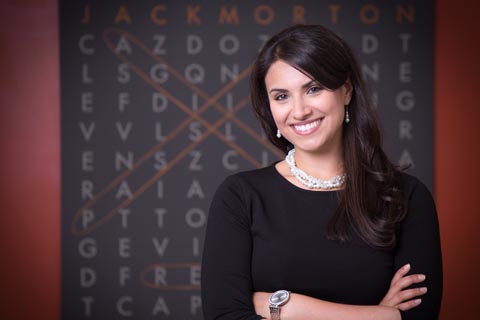 The youngest senior account director for the Detroit office of Jack Morton Worldwide, Erika Eraqi makes the Crain's Detroit Business "Twenty in Their 20s" list for 2014.
Featured in the 2014
Crain's Detroit Business "Twenty in Their 20s"
for impacting a large organization in a big way, 28-year-old Erika Eraqi (
Marketing
'07) has accomplished what would satisfy many twice her age – but she's not the type to rest on her laurels.
"We're the sum of our experiences," says Eraqi. "Every opportunity we're given or interaction we have helps to shape us into who we are. It can also push us to expand upon what we have to offer."
Eraqi brings this attitude to work.

The youngest senior account director for the Detroit office of Jack Morton Worldwide, Eraqi manages the strategic direction and design for all of GM's Cadillac experiential marketing platforms.
How did she achieve this position within six years of starting at the company?
On a course for success

Eraqi's first job at Jack Morton was maintaining Cadillac's registration websites for its invitation-only marketing events.
Instead of being discouraged with the entry-level work, Eraqi was motivated to show others just how much she had to offer. Over time, executives at Jack Moron took note of her instincts and vision.
"My parents taught me to work hard for absolutely everything," Eraqi says. "So I really owned that first job and produced to the highest degree I could."
Eraqi's parents were an ideal example. Immigrating to America, her mother escaped Communist Slovakia, while her father arrived from Egypt with hope that he could provide better opportunities for his family to succeed. Working different shifts and sharing one car, Eraqi's hardworking parents raised three children.
Eraqi's father became a teacher. The value of a good education was emphasized in their home, and all three children earned college degrees.
"Life's all about building upon your experiences," Eraqi reflects. And creating unique consumer experiences is Eraqi's specialty.
In the driver's seat

"We give them memorable experiences that they can't buy," says Eraqi, explaining the extraordinary events she orchestrates.
The events are designed to attach meaning to the brand for potential Cadillac customers.
"We give consumers a chance to experience our vehicles in a meaningful and organic way, like driving to an exclusive dining event, without feeling the pressure to buy," she says.
Past events have included personalized golf instruction from David Leadbetter and driving time on the Laguna Seca racetrack.
Cadillac's Road to Table program introduces the redesigned CTS through a dining experience featuring Bravo's "Top Chef Masters" judge James Oseland and some of the nation's top chefs, such as Trenchermen restaurant's Chef Patrick Sheerin.
This fall, Driven by Design offers a drive in the all-new 2015 Escalade through New York City's top architectural sites, including the World Trade Center memorial and conversation with its architects. Other Driven by Design locations include Los Angeles, Miami, Chicago and Dallas.
The importance of an experience is something Eraqi ties back to Oakland.
Lessons for a lifetime

"My experiences at Oakland University were eye-opening," Eraqi says.
As part of the business school, Eraqi was heavily involved in Students in Free Enterprise (SIFE), whose members taught Metro Detroit-area school students about business and the value of education; SIFE members then presented their programs on a national stage.
"Presenting to judges in SIFE national competitions helped immensely," says Eraqi. "It gave me confidence in my speaking skills and business interactions."
As an OU
Honors College
student, Eraqi spent a semester studying Spanish in Argentina, which broadened her business sense.
"Business is an international playing field, and interacting with people from other countries is priceless," Eraqi says. "Experiencing other cultures opens your mind to new possibilities."
Eraqi has since traveled to Brazil, China, Costa Rica, Nicaragua, Peru and Thailand.
She credits OU's
Career Services
with her internships at Ernst & Young and Automation Alley that put her on the road to her career.
The ever-changing road

After recently completing her MBA, Eraqi has her sights set on the global market.
"It's an exciting time in the automotive industry," she says. "I'm passionate about Cadillac. I believe the brand is evolving and on the cusp of exciting possibilities."
Despite her accomplishments, Eraqi remains humble.
"I'm incredibly appreciative of the job I have," she says. "I came into the company right on the edge of the automotive industry's downturn, so I consider myself blessed to still be working in the field that I love."
Clearly, Eraqi isn't someone who just survives – but thrives. While holding down a busy job requiring frequent travel, she plans to run in the 2014 Detroit Half Marathon. She might even slip in a trip to Australia.
What's her advice for fellow alums?
"Never settle," Eraqi resolutely says. "Keep learning, keep moving forward … you really do create your own opportunities."
By Mary Gunderson-Switzer
The youngest senior account director for the Detroit office of Jack Morton Worldwide, Erika Eraqi makes the Crain's Detroit Business "Twenty in Their 20s" list for 2014.

Created by Colleen Campbell (cjcampbell@oakland.edu) on Wednesday, August 20, 2014
Modified by Colleen Campbell (cjcampbell@oakland.edu) on Wednesday, August 20, 2014
Article Start Date: Wednesday, August 20, 2014