We should call this issue of our news round-up, "What I did this summer."
Students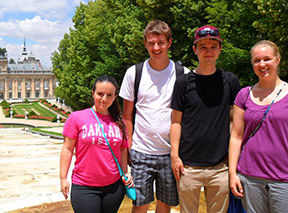 Two of our piano students,
Joshua Kolpak
and
Karen Li
,
were among the twelve OU students who received a $500 award from the Oakland University Sharp Scholarship program for Study Abroad. The James A. Sharp and Tessie Baltrip Sharp Scholarship Award program recognizes the tremendous academic and career benefits of learning about other cultures. Both Joshua and Karen are piano performance majors but Joshua, who traveled to Spain, is also minoring in Spanish, while Karen, who spent time in Argentina, has a second major in linguistics. Joshua writes, "There was not an official music component to my studies, but I did have regular access to a piano in the heart of Segovia; it was in an apartment that overlooked the town cathedral." Karen's main focus was on studying Spanish language and culture, however, she worked on two music related projects during her time in South America. Congratulations to both students on this distinguished award.
OU's world music Biakuye Percussion Group performed at the Marine City Music Festival in May. The festival is organized by OU alum
Dave Simpson
who told The Voice website "The Department of Music, Theatre and Dance is a very good program." Associate Professor
Mark Stone's
ensemble, Southpaw Island Steel Band, also played, just as they did at the very first festival in 2008, so regular festival goers are well acquainted with the quality of our performing arts program.
In August, OU theatre students
Tym Falk
,
Anna Marck
and
Luciana Piazza
appeared with Waterworks Theatre in their Royal Oak Shakespeare production of
Hamlet
, a first-time casting in a professional production for both of the women. Anna said, "It was a wonderful experience." You can
read more about the production here.
Alumni
Gayelynn McKinney
won one of the very prestigious 2014 Kresge Artist Fellowships. These grants, worth $25,000, are awarded annually to metropolitan Detroit artists for their exceptional commitment to artistic achievement and strong contributions to their respective communities. Gayelynn is a composer, drummer and bandleader. She was Grammy-nominated for her work with the all-female jazz band Straight Ahead, which also received a 2004 Motor City Music Award. She is well traveled and has played at many high-profile jazz festivals and venues. You can read more about Gayelynn's life in music in her
bio on the Kresge website here
.
Rachel Hull
, who graduated just this past spring, has spent the summer with the Michigan Shakespeare Festival in Jackson, Michigan. She played Imogen in
Cymbeline
and her performance drew particular praise. "Rachel Hull's Imogen is powerful and intelligent," wrote Bridgette M. Redman on the Encore Michigan website.
Read more of the review here.
Rachel also played Gwendolen in
The Importance of Being Earnest
and the Player Queen in
Hamlet
this summer. In the winter of 2015, you can see her in
Steel Magnolias
at The Purple Rose Theatre in Chelsea, Michigan.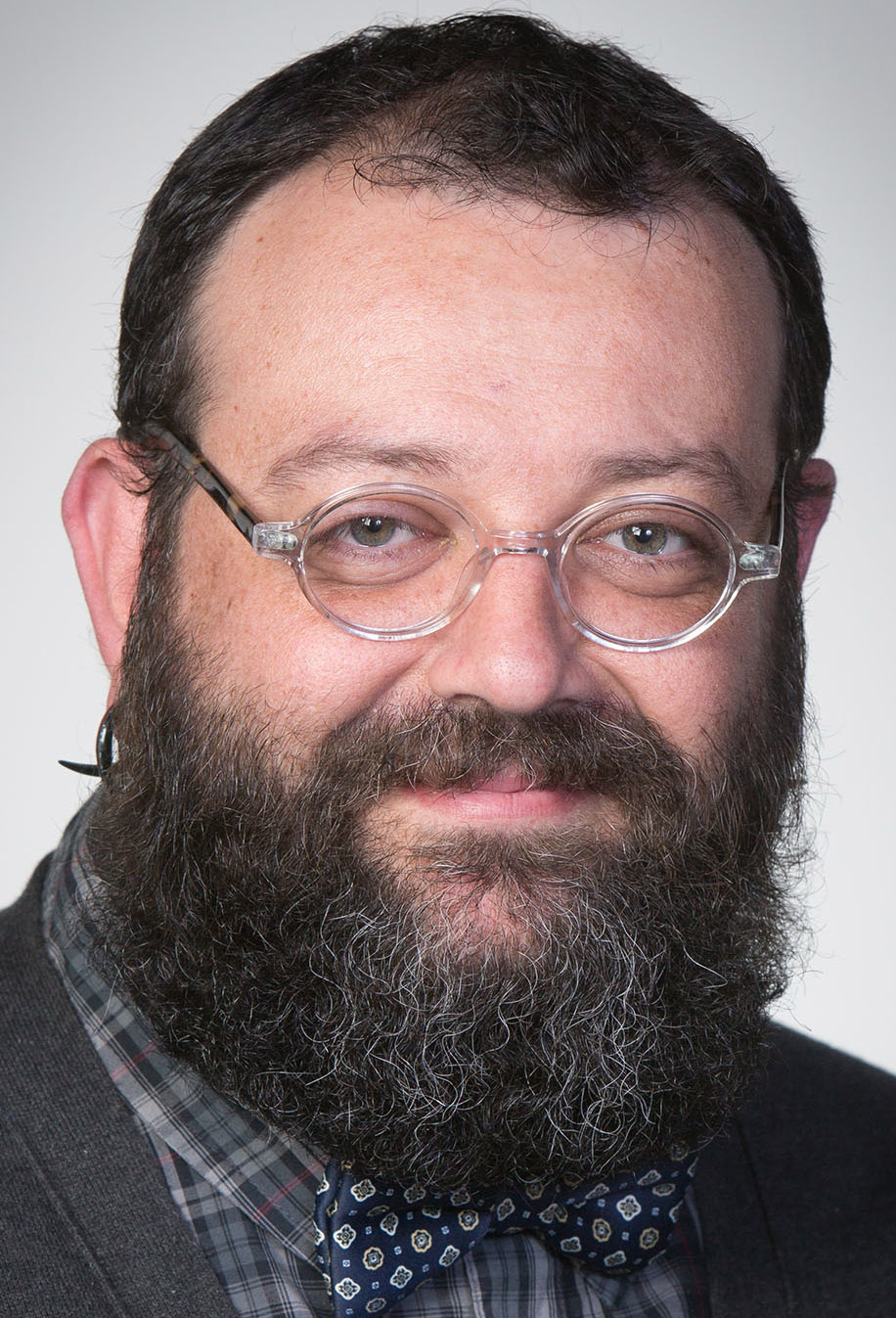 Michael Medvinsky,
who is a K-12 general music teacher in the Bloomfield Hills School District, is an active participant in a network of innovators, and this summer he presented at the International Society for Technological Education in Atlanta. Before turning his passion to music, Mike enjoyed a career as an engineer. He likes to promote a STEAMM model for future learning: science, technology, engineering, art, math and music. We're delighted to announce that Mike is the 2014 recipient of the Oakland University Outstanding Young Alumni Award. He was nominated by
Dr. C. Robert Maxfield
, interim dean and associate professor for OU's School of Education and Human Services. If you would like to join Mike as he celebrates his award,
read more about the Alumni Awards Banquet here
. This is the second year running that a Music, Theatre, Dance graduate has won this award.
Dr. Daniel Abrahams,
who completed his doctoral studies at OU in 2013, is taking up his new position as Assistant Professor of Instrumental Music Education at Indiana University of Pennsylvania this fall. He will teach Instrumental Methods and Technology in the Music Classroom, as well as provide student teacher observation. Dan moved to Pennsylvania after a 20-year career teaching middle and high school instrumental music in the Omaha Public Schools.
Faculty:
Our faculty has also been active. Early in the summer, CBS Detroit publicized
Scott Gwinnell's
recent experiment combining social media and music. Scott, who teaches jazz piano at OU, asked 3,000(!) of his closest Facebook friends to send him a musical note. He planned to use them in the order in which they were received to create a new composition.
You can read more and hear the resulting tune here
.
Some faculty members have been performing and/or touring. In June, Associate Professor
Mark Stone
spent a week in New York City working with his trio project. The Mark Stone Trio performed at New School University as part of the Seventh Festival/Conference of the International Society for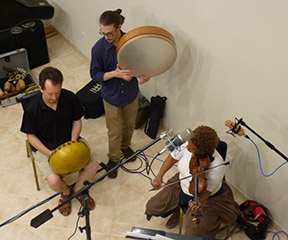 Improvised Music. At the conference, Mark presented his original compositions, which explore improvisation at the intersection of African, Indian and American musical traditions. After the conference, he performed in Manhattan at Somethin' Jazz Club, one NYC's hottest jazz venues, along with
Dan Piccolo
(percussion) and
Alan Grubner
(violin). Before heading back home, Mark took the trio into Trading 8's Studio with engineer
Katherine Miller
to record five of his compositions. After returning to Michigan, Mark recorded two additional compositions with OU alum and artist-in-residence
Regina Carter
at
Terry Herald's
studio.
The duo of Oakland University music professors,
Jeffrey Heisler
, saxophone and
I-Chen Yeh
, piano, toured in Taiwan and China in the early summer, including stops at Tung-Hai University, i-Sax Studio, Guizhou Normal University and Guizhou University. Their performances included the Asian premiere of
Gradient
, the new saxophone and piano work by composer Baljinder Sekhon. The duo also plans to record
Gradient
on their upcoming CD, which will be released in the fall and featured in a
Varner Recital Hall concert on October 2.
Recently, Jeffrey became the newest member of the Assembly Quartet, a chamber ensemble with the highest standards of artistic integrity but one that also has a special mission: "The ensemble's special focus is on secondary schools and communities that traditionally lack ready access to chamber music, with the goal of promoting collaborative music-making as an integral component of community and culture."
Read more about the ensemble here.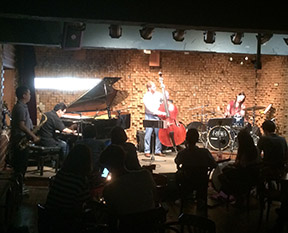 Assistant Professor
Miles Brown
wrote a description of his summer travels. "In August, I traveled to Seoul, Korea to play with a wonderful musician named
John Nam
, who is a pianist and assistant professor of music at Keimyung University. Appearing with us was drummer
Mihyun Seo
, vocalist
Jumi Lee
, and saxophonist
Kenji Omae
. We played at two of Seoul's best jazz clubs, Club Palm and Club Evans. The performances consisted of original compositions and standards. It was a joy and honor to play with these musicians, and to visit this wonderful city! I will be returning to Seoul with Alarm Will Sound in November to play the music of Steve Reich, John Adams, and more."
In July, OU Associate Professor
Deborah Blair
presented at the International Society for Music Education (ISME) along with doctoral candidate
Shinko Kondo
, Ph.D.alum
Sharon Davis
, and department chair
Professor Jackie Wiggins
. This year's conference was held in Porto Allgre, Brazil.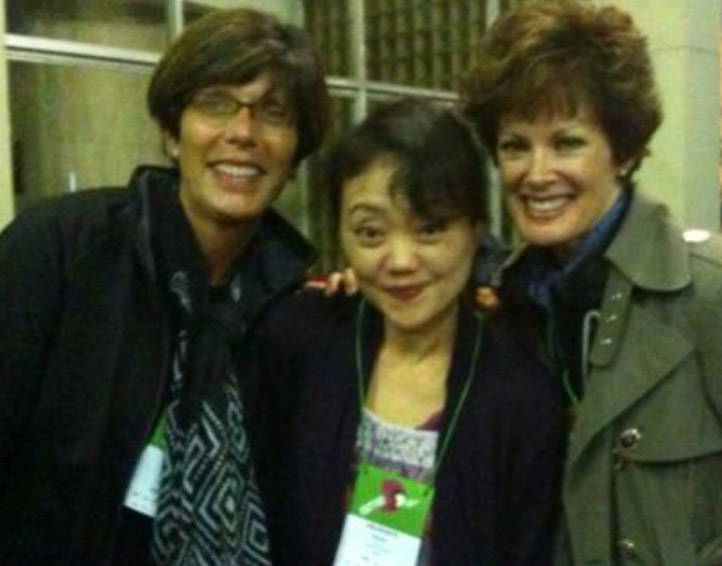 In August, Professor Blair celebrated the release of another iBook, her second
Songs For You and Me.
Like the first, it is a sing along book intended for all children to enjoy with friends and family. Each song is beautifully illustrated and includes the melodic contour in a graphic score. The book also provides videos with the illustrations moving with the songs as they are sung and videos of the songs played on classroom instruments, keyboards or iPad apps.
Both books are available now in the iTunes bookstore
.
Assistant Professor
Anthony Guest
has been performing locally. This summer saw him on stage as Herr Baltin, a bumbling teutonic aristocrat, in Meadow Brook Theatre's production of
You Never Know
.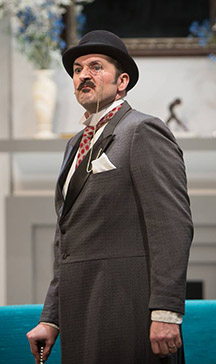 Finally we want to update you on some new staff members.
Christa Koerner
is our new costume shop supervisor. She has a B.A. in Theatre Production from OU and and an M.F.A. in Costume Design from Wayne State University. She worked in professional theatre and dance in the Detroit Metro area after completing her graduate studies, designing costumes for a number for companies, including the Performance Network, the Jewish Ensemble Theatre, Epicenter Theatre Group, Take Root and Eisenhower Dance. During her graduate studies she helped to run both the undergraduate and graduate costume shops at Wayne State University. In addition, Christa has studied various techniques of costume and craft construction at professional workshops offered by USITT, TUTU.COM and the Stratford Festival of Canada.
Joseph Beck
is our new technical director. He comes to us from upstate New York where he was the technical director and resident lighting designer at Tri-City Opera from 2006 to 2012. In 2012, he joined the faculty of Binghamton University - SUNY as an assistant professor, while continuing at Tri-City Opera as a technical consultant for their extensive rental operations. As a consultant Joe worked with the technical staffs of more than two dozen opera companies from across North America, including Des Moines Metro Opera, Pensacola Opera, Phoenix Metro Opera and the Lyric Opera of San Diego. Joe has also worked with the Alabama Shakespeare Festival, Heart of America Shakespeare, Circlestage and Great Lakes Opera, among others. In an academic career spanning 11 years of teaching at the university level, Joe has taught courses in stagecraft, lighting design, technical production, and stage management.
Welcome to both, and welcome to all our freshmen students!


Photos:
Top right: Joshua Kolpak (3rd from the left) at the Royal Palace of La Granja in Spain.
Upper middle left: Michael Medvinsky.
Upper middle right: (l-r) Mark Stone, Dan Piccolo and Regina Carter in the recording studio.
Lower middle left: Miles Brown and friends on stage in Seoul, Korea.
Lower middle right: (l-r) Deborah Blair, Shinko Kondo and Sharon Davis at the ISME conference on Brazil.
Bottom left: Anthony Guest in
You Never Know
at Meadow Brook Theatre, photo by Rick Smith.