Friday, August 15, 2014
Inaugural fall homecoming will start by honoring exceptional alumni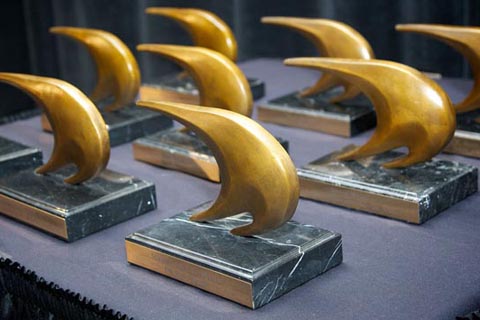 Written by Kelli M. Titus

On Friday, Sept. 19, the Oakland University Alumni Association will kick off the University's
homecoming
ceremonies by celebrating the success of its most prestigious alumni.
Fox 2 News anchor/reporter and 2002 College of Arts and Sciences graduate Amy Andrews will serve as mistress of ceremonies of the 20th Annual Alumni Awards Banquet.
The highest alumni honor, the Distinguished Alumni Service Award will be presented this year to Lynn Gross, vice president and senior estate officer at JPMorgan and a 1987 School of Business Administration (SBA) graduate. The esteemed award recognizes Gross's enthusiastic advocacy, dedication and volunteer work for OU.
A1992 graduate of the College of Arts and Sciences (CAS) Stacie Behler, group vice president of public affairs and communications at Meijer Inc., will be awarded with the Distinguished Alumni Achievement Award, recognizing her outstanding professional achievement and contribution to the community.
The Odyssey Award honors alumni who embrace the pursuit of knowledge and experience, and will be presented to the Detroit Historical Museum's Chief Curatorial Officer Tobi Voigt. She graduated from the College of Arts and Sciences in 1998 and 2004.
Barbara Gough, a 1992 School of Education and Human Services graduate, and her husband Allen Gough will receive the Spirit Award for their dedication and involvement at OU for more than 20 years.
A 2005 graduate of the College of Arts and Sciences and Bloomfield Hills Schools music teacher Michael Medvinsky will receive the Outstanding Young Alumni Award for demonstrating the value of his education through post-college achievements.
The Alumni Community Service Award will be presented to Jennifer Valoppi, founder and president of Women of Tomorrow and a 1979 College of Arts and Sciences graduate. This honor recognizes distinctive service of a humanitarian nature or citizenship through community, public or OU service activities.
The Honorary Alumni Award will be given this year to two individuals who did not graduate from OU but have given outstanding service to the University. They are Dean of the School of Health Sciences Kenneth Hightower and Managing Director of OU's Golf and Learning Center Bill Rogers.
In 1959, a group of eminent scholars were chosen to provide recommendations on the curriculum for the development of what news reports called "a new university with a new look on learning." Dubbed the Honors College Group, Arden C. Barie, Darwin J. Casler, Phillip T. Eckstrom, Paul H. Woodruff, Duane Chapman and Terry J. Smith contributed to the foundation and ideals that Oakland University still upholds today. Because of their support and influence, the group will be presented with the Pioneer Award.
Set for 6 p.m. in the Oakland Center Banquet Rooms on the campus of Oakland University, the 2014 Alumni Awards Banquet will also include special recognition of previous alumni award recipients.
Tickets to attend the event are $100 per person and 10-seat table sponsorships are available for $1,000. For registration information visit
grizzlink.oualumni.com
or contact the executive events office at (248) 370-4917.
Alumni will gather to celebrate OU's newest additions and oldest traditions during fall homecoming and reunion weekend Sept. 19-21.

Created by Colleen Campbell (cjcampbell@oakland.edu) on Friday, August 15, 2014
Modified by Brian Bierley (bierley@oakland.edu) on Wednesday, September 3, 2014
Article Start Date: Friday, August 15, 2014