Tuesday, August 12, 2014
Recreation and Athletic Outdoor Complex coming into focus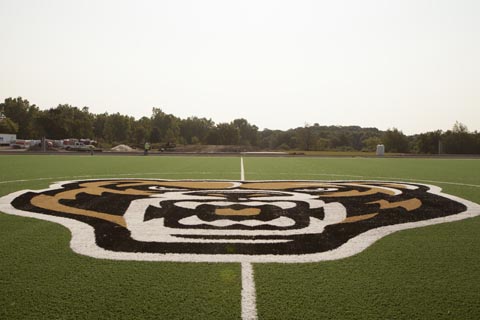 The new $7.8M Recreation and Athletic Outdoor Complex (upper fields) is on schedule for an October 2014 opening. Students will enjoy the eight new tennis courts, top-of-the-line track with multi-sport interior field and two multi-sport recreation fields. All activity space has lighting for evening play.
The space will be used by Campus Recreation for health and fitness programs, intramural sports and club sports including soccer, rugby, lacrosse, football and cricket. In addition, OU athletics will use the space for track and field, tennis, soccer and hosting future Horizon League events.
Read more about the new facilities on the
Campus Rec page
.
Softball, tennis, track and multi-sport fields are scheduled to open for play in October.

Created by Colleen Campbell (cjcampbell@oakland.edu) on Tuesday, August 12, 2014
Modified by Colleen Campbell (cjcampbell@oakland.edu) on Tuesday, August 26, 2014
Article Start Date: Tuesday, August 12, 2014