Tuesday, August 5, 2014
Alum reflects on study abroad trip as she starts her dream job working with international businesses
Five years ago, Dollie Diller soaked up every minute and every experience of a
study abroad
trip with OU's
Master of Business Administration
program. Last week while reading her coffee from her OU mug, she got the job offer for her dream job with a non-profit in downtown Cincinnati that focuses on bringing European companies and jobs to the Cincinnati tri-state region.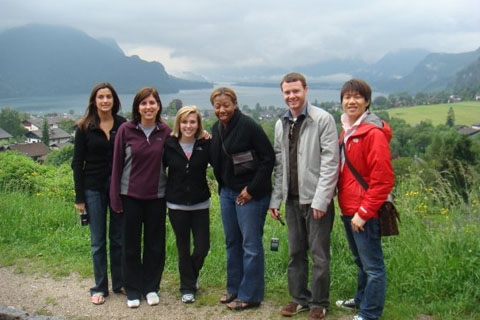 Five years ago, Dollie Diller and went with a group of six students who visited Austria, Germany, France, and England, meeting with American and European companies to discuss their strategies of expansion within Europe. Today, Diller takes her experiences to her dream job in Cincinnati.
Diller started her new job as events and communication manager at
European American Chamber of Commerce
last week.
"I've always been fascinated in the stories behind businesses," Diller said. "Whether its a huge corporation like Luxottica or a small start up, I love to hear the stories, successes and challenges, as they strive to grow their company. This position allows me to explore those stories, meet people and build relationships, and then work to connect the stories to someone who might benefit from them."
Read Diller's blog post about accepting her dream job at
http://twowoodenspoons.com/five-years-can-take
.
MBA alumnus Dollie Diller is now the events and communication manager at a Cincinnati organization that brings European companies to the tri-state area.

Created by Colleen Campbell (cjcampbell@oakland.edu) on Tuesday, August 5, 2014
Modified by Colleen Campbell (cjcampbell@oakland.edu) on Tuesday, August 5, 2014
Article Start Date: Tuesday, August 5, 2014