Monday, July 21, 2014
9 tips to be successful as a first year college student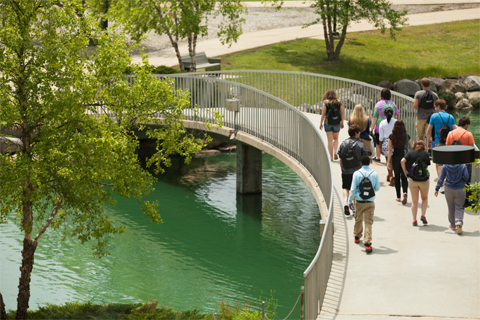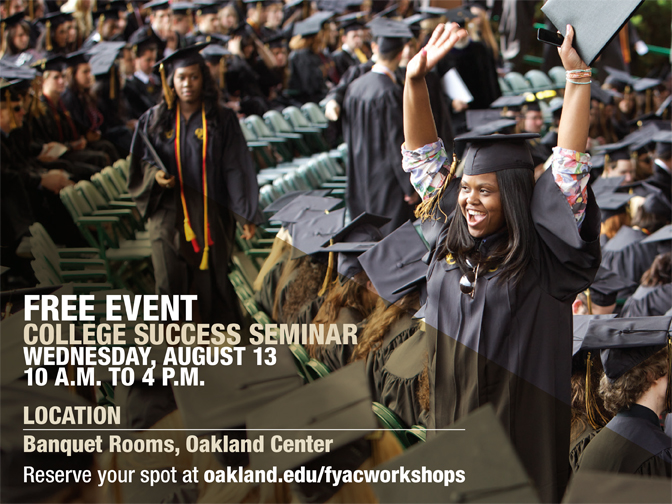 Written by Kelli M. Titus


The first year in college can be a crucial time for students, setting a precedent for the remainder of their schooling.
"If students don't get connected within the first six weeks, the likelihood of them getting connected to Oakland decreases greatly," said Brittani Hobbs,
First Year Advising Center
communications coordinator at Oakland University. "Students being assigned an academic adviser at day one helps so much because you can say 'this person is my advocate.'"
OU created the First Year Advising Center in 2012 to provide new students with hands-on academic advisers and critical resources to aid with the transition from high school to college.
To ensure a successful first year, students should:
Utilize free campus resources.
Get Connected.
"Not just saying 'I go to OU,' but proudly saying 'I'm a golden grizzly,'" Hobbs said.
Explore things you can do on your own.
"We really want students to take responsibility of their education," Hobbs said. "It's important for them to become their own advocate."
Get to know your professors.
Ask for help from faculty and advisers.
Expand your comfort zones.
"Be open to new experiences and making new friends outside of your circle," Hobbs said.
Stay organized.
Work out, eat right and sleep well.
"Your wellness equals your success," Hobbs said.
Learn about career opportunities associated with different majors.
Oakland's First Year Advising Center also offers a College Success Seminar, where first year students can learn how to successfully manage the transition from high school to college, hear from a panel of students, take major career assessments, talk with academic advisers and discover the tools necessary to have an exceptional college experience.
"It'll be a great event where students can really learn different techniques that will help with that transition to help them come out victoriously," Hobbs said. "College is fun! You can really create a bond and a family at OU. You can find where you belong."
The College Success Seminar is available for all first year students. The free event will be held on Wednesday, Aug. 13 from 10 a.m. to 4 p.m. Learn more at oakland.edu/fyacworkshops.
OU's First Year Advising to offer College Success Seminar Wednesday, Aug. 13, providing tips to students entering their first year of college.

Created by Colleen Campbell (cjcampbell@oakland.edu) on Monday, July 21, 2014
Modified by Colleen Campbell (cjcampbell@oakland.edu) on Tuesday, September 2, 2014
Article Start Date: Monday, July 21, 2014