Friday, July 18, 2014
Partnership with Chinese institutions offers future engineers global perspective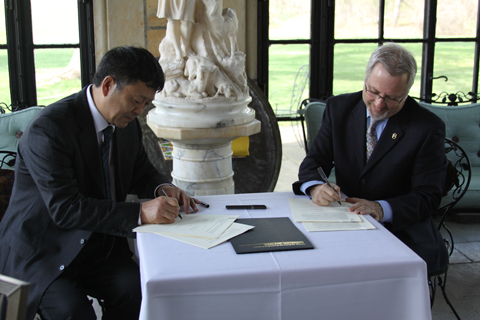 This spring, Beijing Information Science and Technology University President Hengzhen Shi and Oakland University's Provost James Lentini sign agreements at Meadow Brook Hall.
Written by Kelli M. Titus

Oakland University's School of Engineering and Computer Science (SECS) unites with Chinese institutions to provide international students with exceptional academic opportunities, as well as enhance the learning experiences of Oakland students.

The University has been developing a partnership with Beijing Information Science and Technology University (BISTU) since 2009. The agreement between the institutions is continually evolving in order to enhance their partnered programs.

The most recent agreement, re-signed this spring, revised the OU-BISTU partnership Graduate Cooperation Agreement and Undergraduate Agreement for Mechanical Engineering and Electrical Engineering.

This fall, BISTU will send 16 students to OU, including undergraduate and graduate students, where they will spend half of their schooling at the Beijing facility and the other half at Oakland.

"The cooperation with BISTU has led to a movement towards globalization of SECS," said OU Mechanical Engineering Professor Gary Barber. "Most practicing engineers now work for global companies, so OU engineering students greatly benefit by working and socializing with students from other countries."

The partnership offers still other advantages, he added.

"These students are enhancing the research at OU, and those that have moved on to other universities are serving as great ambassadors for Oakland."

In 2012, the University began discussing partnerships with Zhengzhou University of Light Industry, providing additional undergraduate and graduate benefits that mirror those with BISTU.

"SECS has also built partnerships with Beijing Jiaotong University, Changchun University of Technology, Qingdao Technological University," said Lianxiang Yang, a professor of mechanical engineering at Oakland.

In June, a 5-person delegation from Qingdao Technological University visited Oakland to discuss further collaboration. All agreements require yearly visits between the partner universities to continually assess and improve the programs.

To learn more about engineering programs at Oakland, visit oakland.edu/secs.
This fall, 16 undergraduate and graduate students from Beijing Information Science and Technology University will study at Oakland University.

Created by Colleen Campbell (cjcampbell@oakland.edu) on Friday, July 18, 2014
Modified by Colleen Campbell (cjcampbell@oakland.edu) on Friday, July 18, 2014
Article Start Date: Friday, July 18, 2014