Tuesday, July 15, 2014
Generous gift supports business school's international program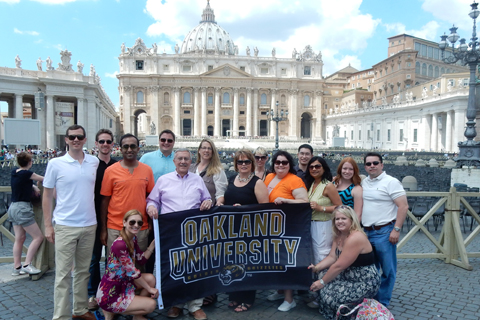 This spring, Cardimen took 11 MBA and three Executive MBA students to southern Europe where they visited such organizations as Hewlett Packard Italian and Maserati.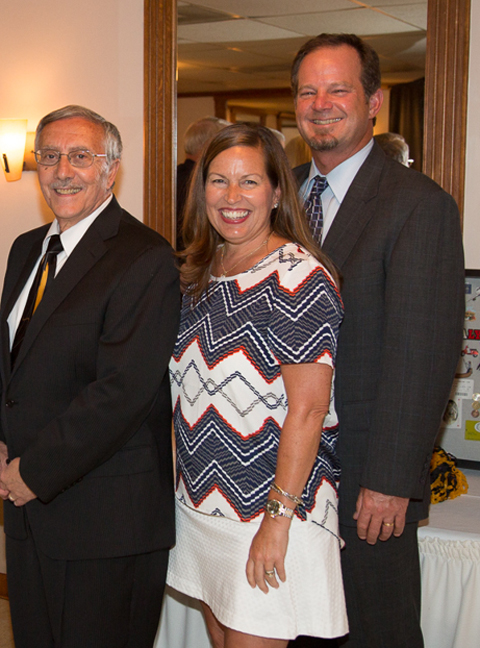 Ann and Craig Stinson pay tribute to their business professor by establishing the Frank Cardimen International Initiatives Fund to support global experiences for business students.

Written by Kelli M. Titus

Ann and Craig Stinson announced their contribution of $50,000 for the international travel program at Oakland University's business school.

"International travel is one of the single greatest experiences of your educational career," said Craig Stinson. "Traveling internationally is not a small investment."

The Stinson's gift establishes the Frank Cardimen International Initiatives Fund and serves as a foundation to support the school's existing travel program. It also will allow for additional opportunities that enhance students' international business experience.

"Frank has dedicated many, many years to Oakland University and his students; and touched a lot of students, including Ann and me. For what you taught us, we will be forever grateful," added Stinson. "There's no better way to pay tribute to you, Frank, our good friend and mentor."

The announcement, named for one of Oakland's well-known business faculty members, came as a surprise to Cardimen.

"I am still in shock," Cardimen said about the Stinson's gift. "I have never been at such a loss for words and so emotional. I am very honored and humbled by Craig and Ann's support. Students will benefit from it for years to come."

Since 1979, Cardimen has trained future business leaders at Oakland's business school. Fifteen years ago he began teaching students the importance of understanding international business first-hand by leading them on trips to companies abroad, meeting high-ranking executives, politicians and U.S. embassy personnel.

"Frank Cardimen taught us that 'It's not right, it's not wrong, it's just different,'" says Francesca (Vitale) Daniel MBA '08, instrument design release engineer, General Motors. "Being able to travel throughout the world and learn first-hand about different cultures and ways of doing business gives you an edge that differentiates you in a competitive marketplace."

Each year, Cardimen witnesses the great impact the international experience has on his students; It's that impact that keeps Cardimen motivated to coordinate the program year after year.

This spring, Cardimen took 11 MBA and three Executive MBA students to southern Europe where they visited such organizations as Hewlett Packard Italian, Maserati, Euroclinic SpA, Continental Automotive, GM Europe Headquarters, NBC Universal Home Entertainment and Global Networks and took a VESPA plant tour.

Doug McDonald is one of the in the EMBA students who travelled to Greece, Italy and Switzerland in 2014. He is expected to graduate spring 2015, and currently works as an Information Technology Infrastructure Manager at Henry Ford Health System, as well as an entrepreneur.

"There is truly an intangible value which comes from acclimating in a foreign country, interacting with local people, and understanding the way others live and do business," McDonald said. "Professor Cardimen repeatedly impressed with his international business acumen and ability to engage classmates in thought-provoking discussion. This was a truly rewarding experience and I will take away knowledge and memories that will last a lifetime."

Asmaa Jamil travelled with the program in 2000, the same year he graduated from Oakland with a Post Graduate Certificate in Management Information Systems. She now resides in Beijing, China, working as a Project Manager for Mercedes Benz Auto Finance Company.

"It was the best experience I had because professor Frank Cardimen organized it so well that it felt like we were in a magical time," said Jamil. "He incorporated visits with various companies in different industries, he planned lunches and dinner with experts, he incorporated some sightseeing and personal time that was just right for the trip."

"There is no better way to learn, study, and understand international business than to travel and meet the businesses and learn the culture," said Amy Butler, Executive Director of OU INC, who recently enrolled in the University's MBA program. "Without the gracious support of the Stinson's donation many students would not have the opportunity to make a trip like this. It is truly one of the unique opportunities that sets Oakland University programs apart from the rest."

Ann and Craig Stinson are devoted and generous Oakland University business school alumni, frequently donating time and money to continually enhance the School of Business where they gained the degrees that aided them in achieving great success. Supporting projects that they are passionate about is something they learned from Frank Cardimen, and they are happy to be able to continue to do it.
The Stinson's gift establishes the Frank Cardimen International Initiatives Fund to help students gain international business experience.

Created by Colleen Campbell (cjcampbell@oakland.edu) on Tuesday, July 15, 2014
Modified by Colleen Campbell (cjcampbell@oakland.edu) on Tuesday, August 19, 2014
Article Start Date: Tuesday, July 15, 2014