Friday, July 11, 2014
Students participate in undergraduate research this summer
Biology and chemistry undergraduate students prepare presentations to display their summer research efforts through the Undergraduate Summer Research Program. The program offers students the opportunity to conduct independent research projects with the guidance of a faculty mentor. This endeavor allows students to learn the processes of research, and encourages graduate study.
The program concludes on July 25, where students will present their research findings.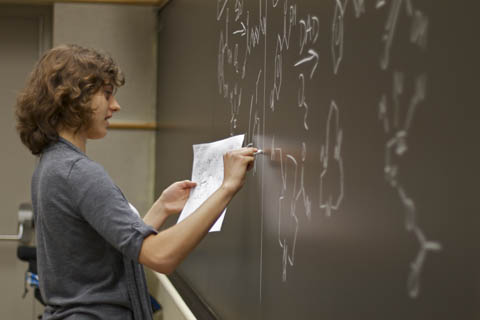 Freshman Monika Molenda, discusses her research in aromatic compounds. "This is my first time conducting research," she said. "I really like this research program."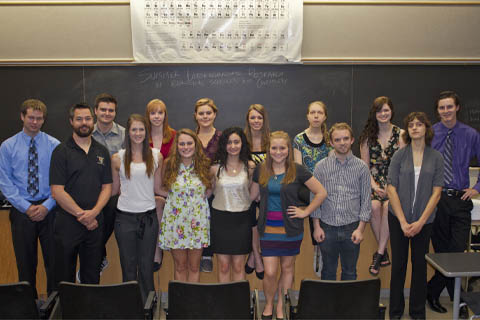 Front row left to right: Austin Morse, Joseph Love, Stephaine Fields, Hanna Trzeciakiewicz, Anna Jahshan, Elizabeth Scott, Jeffery Medley, Monika Molenda, Jonathan Bucan. Back row: Derrick Germain, Marisa Brake, Jessica Hovey, Miranda Roberts, Olga Kazora, Brooke Corbin. Not pictured: Mark Wright
Sixteen students conduct independent research in biology and chemistry, preparing for graduate study and future research endeavors.

Created by Colleen Campbell (cjcampbell@oakland.edu) on Friday, July 11, 2014
Modified by Colleen Campbell (cjcampbell@oakland.edu) on Wednesday, September 3, 2014
Article Start Date: Friday, July 11, 2014