Friday, June 20, 2014
Professor teams up with Detroit Pistons Flight Crew for a lesson in physics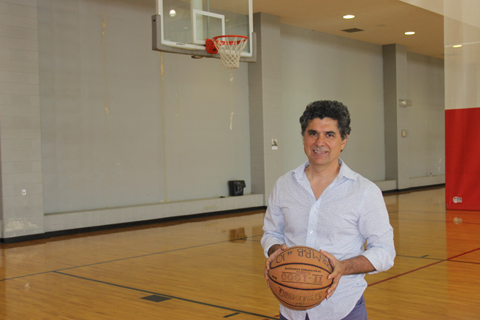 OU physics professor Dr. Alberto Rojo explains the physics that make the Detroit Pistons Flight Crew's show.
While most basketball fans are familiar with the dazzling displays the world's top athletes perform on the court, most probably aren't acquainted with the scientific aspects involved in such feats.
Oakland University professor
Alberto Rojo, Ph.D.
, recently teamed up with the Detroit Pistons Flight Crew on a video that explores the physics of motion, revealing the science behind the art of dunking a basketball.
An associate professor of physics, Dr. Rojo was recruited for the project by a Palace Sports and Entertainment employee familiar with his previous work in popular physics.
"I got a call from Karina Anglada (producer/editor and video board director), who had the idea of doing a sports and science video based on the Flight Crew. She had seen my 'Walking on Water' video and thought I would be appropriate for this project," Dr. Rojo said. "I went to the Flight Crew practice and did some research on trampolines and the biomechanics of jumping."
Highlighting the practical aspects of physics, Dr. Rojo has also developed an OU course on the physics of everyday life, authored a book on the subject and produced dozens of popular science articles in his native Argentina. He is also creator and host of "Artists of Science," a TV series in Argentina that explores connections between science and the arts. Along with his teaching activities, Dr. Rojo is a member of the American Physical Society.
"In my books and articles, I treat the science of soccer and other sports," Dr. Rojo said. "I also did some popular work on statistics and game theory applied to sports."
For more information on physics programs at OU, visit the website at oakland.edu/physics.
Dr. Alberto Rojo — who has an OU course that looks at the physics of everyday life — reveals the science behind the art of dunking a basketball in Flight Crew video.

Created by Colleen Campbell (cjcampbell@oakland.edu) on Friday, June 20, 2014
Modified by Colleen Campbell (cjcampbell@oakland.edu) on Friday, June 20, 2014
Article Start Date: Friday, June 20, 2014