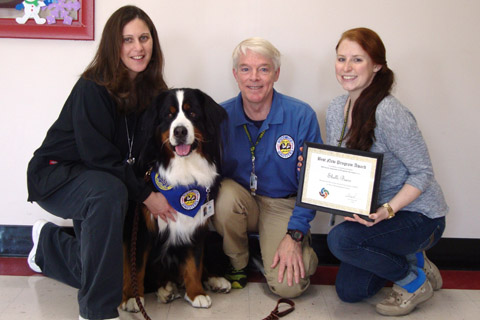 Zeke, a Bernese Mountain dog, and Welton Seal, a graduate of OU's Animal Assisted Therapy certificate program, pose with Deer's Head Hospital Center staff, Shelli and Haley. Seal received a Best New Program of the Year award at the Mideast Symposium on Therapeutic Recreation.

by Kelli M. Titus
Patients at Deer's Head Hospital Center in Salisbury, Maryland, are offered therapeutic treatment options from Murphy and Zeke, two Bernese Mountain dogs trained by owner Welton Seal for intentional and strategized therapy.
Animal-assisted therapy embraces the therapeutic bond between humans and animals to aid the healing process for those suffering both physically and psychologically. Seal, resident of Salisbury, Maryland, received a certificate in animal-assisted therapy from Oakland University's online certificate program.
"In choosing the OU Animal Assisted Therapy (AAT) certificate program, I aspired to demonstrate an exceptional level of commitment to providing high-quality AAT services and to achieve a commensurate level of competence and credibility in the field," he said.
The five, eight-week module program teaches the psychology of AAT, working with animals, vulnerable populations and developing a program plan. The program has an international outreach, educating students from the United States to Canada, Hong Kong and South Africa.
"It is a very effective adjunct to therapy, in that when clients or patients interact with a safe, non-judgmental being, it helps them make connections that are often not possible with therapy alone," said AAT Program Director Amy Johnson. "The difference that students make in the lives of others can be extremely rewarding."
The program is taught by Johnson, as well as several other multidisciplinary professionals, in order to give students a well-rounded curriculum.
"We provide the theoretical framework and intentionality to build their practice on," she said.
Seal completed the program and earned his certificate in 2013. Throughout his time in the yearlong program, he developed the mission and guidelines for his therapy dog organization, "Wicomico Wagsters." He proposed key projects of his organization to the therapeutic recreation team at Deer's Head Hospital Center, exploring opportunities to integrate animal-assisted therapy into patient care plans.
With Murphy and Zeke by his side, Seal regularly visits patients at multiple schools and hospitals in Wicomico County. The recreation therapy department at Deer's Head received the "Best New Program of the Year" award for Seal's pilot program, Therapeutic Recreation Assisted by Canines (TRAC), at The 38th Annual Mideast Symposium on Therapeutic Recreation in April 2014.
"The flexibility of the certificate program allows students to develop a proposal or plan that suits their specific interests and population," Johnson said. "We work with each student on an individual basis to help them formulate a program that is set up for success."
Animal-assisted therapy differs from 'animal-assisted activities' in that AAT allows for long-term treatment options, requires service professionals, sets patient or client goals, creates interactions and measures results. The animals are not only used for comfort, but are incorporated into the patient's treatment plan.
Those certified in AAT can use cats, dogs, horses, rabbits and other animals to practice efficient therapy techniques for people with severe emotional or behavioral problems. The practice also offers emotional, psychological and physiological support for the critically ill, elderly and physically impaired.
Students can use AAT to enhance their current roles as nurses, counselors, physical therapists, etc., or can utilize their studies by starting their own AAT practice. Additional information on OU's Animal Assisted Therapy program is available at oakland.edu/animalassistedtherapy.
Animal Assisted Therapy, an online certificate program, offers efficient therapy techniques to treat people with severe emotional or behavioral problems

Created by Colleen Campbell (cjcampbell@oakland.edu) on Monday, June 16, 2014
Modified by Kelli Titus (kmtitus@oakland.edu) on Monday, June 16, 2014
Article Start Date: Monday, June 16, 2014