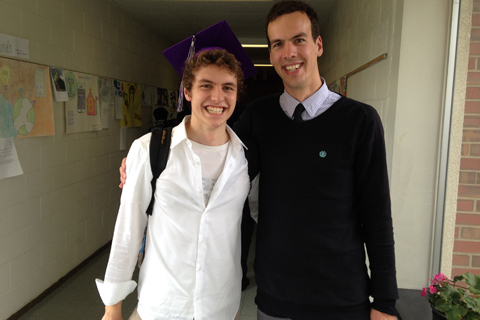 A self-proclaimed "textbook overachiever," Anders Engell is an incoming "freshman" with 60 college credits to his name. Here he is pictured with his English teacher and OU alumnus, Josh Kozlowski.

by Kelli M. Titus
Anders Engnell is 18 years old, top of his class and a future Oakland University student, inspired by his English teacher and Oakland alumnus, Josh Kozlowski.
"I can't say I've ever seen a more effective example of subtle leadership than through Mr. K," Engnell said. "We learned from him, our friends and ourselves all within the space of an hour-long class."
Kozlowski instructs his English students on literature and how to interpret the written word, along with the importance of leadership, integrity, resilience and, above all, respect.
"Do not sell yourself short and do not buy into the image that the rest of the world has of you," Kozlowski tells his Pontiac high school students.
Teaching at the International Technology Academy (ITA), the 28-year-old graduated from OU's teaching program in 2010 and was recently named one of Oakland County's "Elite 40 under 40," for his outstanding efforts and involvement with his ITA students.
"I'd like to think the students and I are helping each other grow," Kozlowski said. "Within any school it is important to have energetic and passionate teachers investing in students who haven't had their potential fully affirmed yet."
Kozlowski always had an interest in teaching inner city kids, choosing to student teach at Pontiac's public high school for two semesters. After graduation, he worked at the facility for one year before being offered a position at ITA, a sixth- through 12th-grade Project Based Learning environment.
ITA trains students to discover their own education by equipping them with the skills and knowledge to problem solve and develop their own solutions to scenarios and projects.
"There's much more student ownership within their own education," Kozlowski said.
An ITA senior, Engnell has a special relationship with the OU alumnus, as the duo spent eight months developing the school's student newspaper, The Roar.
"Anders Engnell represents the highest potential of a youth that is too often overlooked and underappreciated," Kozlowski said. "His leadership serves as a great example of what is possible for a program that values the collaborative work of ambitious and creative students."
Engnell's accomplishments at ITA range from Roar newspaper editor and club coordinator at local elementary schools, to Science Club director, Student Council president and National Honor Society vice president. The self-proclaimed "textbook overachiever" appreciates the value of a quality education, with dreams of going to a top-notch institution.
"I tried to get into Harvard, but when that didn't pan out I transferred over 60 college credits to OU through a dual-enrollment program I had entered at OCC and Oakland became my first choice," Engnell said. "The University's growth potential is incredible at this stage, and I want to get on the forefront of the advance forward."
Beginning his studies at OU this fall, Engnell will pursue the University's Integrative Studies program, dual-majoring in math theory and creative writing.
"I'm looking forward to seeing everything I've learned from Mr. K and ITA are going to become a part of what I do at OU," Engnell said "It should be a great experience!"
Anders Engnell is 18 years old, top of his class and a future Oakland University student, inspired by his English teacher and Oakland alumnus, Josh Kozlowski.

Created by Colleen Campbell (cjcampbell@oakland.edu) on Wednesday, June 11, 2014
Modified by Colleen Campbell (cjcampbell@oakland.edu) on Wednesday, September 3, 2014
Article Start Date: Wednesday, June 11, 2014