Wednesday, June 4, 2014
Nurse practitioner graduates achieve a 100% pass rate on national certification exams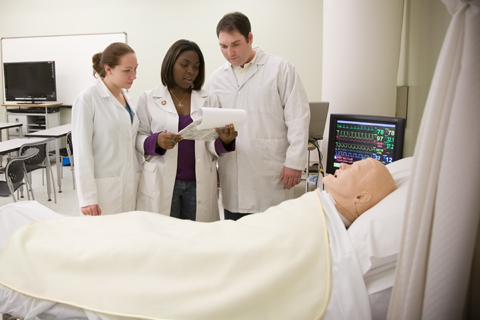 For the second year in a row, graduates of Oakland University's nurse practitioner programs achieved a 100 percent pass rate on the national certification exams in their respective fields.

Oakland offers Family Nurse Practitioner and Adult/Gerontological Nurse Practitioner programs, which provide registered nurses with specialized knowledge and advanced training to manage both acute and chronic illnesses in a variety of settings. The programs are part of the OU School of Nursing's Master of Science in Nursing program.
Working in community-based clinics, hospitals, and long-term care settings, nurse practitioners possess clinical expertise in diagnosing and treating numerous health conditions, with an emphasis on health management and disease prevention. Family nurse practitioners treat a multitude of populations, from the neonate to the elderly, while adult/gerontological nurse practitioners specialize in caring for aging populations.
A total of 36 OU students passed the Nurse Practitioner exams, according to Deana Hays, director of nurse practitioner programs.
"I believe what has made us so successful is that we focus on quality, rather than quantity," Hays said. "We have wonderful faculty that work collaboratively to ensure that our students are receiving a comprehensive curriculum that builds as the student progresses through the program. All of our NP faculty currently practice as nurse practitioners, which allows them to bring a high level of clinical expertise to the classroom."
Administered through the American Nurses Credentialing Center and the American Association of Nurse Practitioners, the exams gauge student knowledge on the assessment, diagnosis and management of various illnesses across multiple populations and age groups. They also evaluate students' ability to communicate with patients and address questions related to health insurance coverage and exploring cost-effective care options.
"We are proud to have our students achieve a 100 percent pass rate on these exams. That's well above the national average of 83.38 percent," Hays said. "This achievement is a testament to how prepared our students are for practice in the primary care areas."
To learn more about nursing programs at OU, visit the website at oakland.edu/nursing.
Well above the national average of 83.3%, 36 nursing graduates excel in their respective areas of Family Nurse Practitioner and Adult/Gerontological Nurse Practitioner.

Created by Colleen Campbell (cjcampbell@oakland.edu) on Wednesday, June 4, 2014
Modified by Colleen Campbell (cjcampbell@oakland.edu) on Wednesday, June 4, 2014
Article Start Date: Wednesday, June 4, 2014