Wednesday, June 4, 2014
Michigan Chronicle names OU VP a 2014 Man of Excellence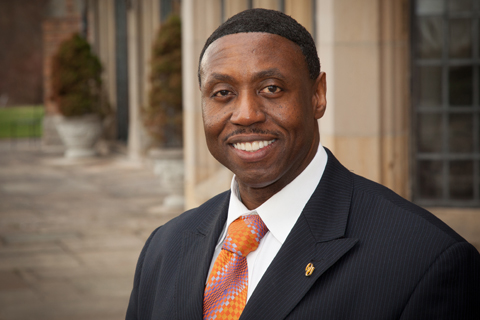 Glenn McIntosh, Interim Vice President for Student Affairs and Enrollment Management at Oakland University, has been chosen as one of the Michigan Chronicle's 2014 Men of Excellence.

"Glenn is an inspiration to all of our students through his leadership and dedication to the University," said OU Interim President Betty J. Youngblood. "I am very pleased to see him recognized with this honor for his personal success and for his service to the community."

The Men of Excellence Awards celebrates local African-American men who inspire others through vision and leadership, exceptional achievements and participation in community service.

McIntosh was nominated by the Michigan Chronicle's readers and selected as a winner from among hundreds of nominees.

"I was both surprised and honored when I received a letter from the Michigan Chronicle publisher Hiram E. Jackson telling me I was going to be part of their 2014 Men of Excellence group," McIntosh said of the honor.

The Men of Excellence award ceremony is scheduled for Friday, June 13 at the MGM Grand Detroit. In addition, the Michigan Chronicle will publish a special commemorative tabloid insert showcasing the winners' accomplishments.
Glenn McIntosh is among a group of African-American men who inspire others through vision and leadership, exceptional achievements and community service.

Created by Colleen Campbell (cjcampbell@oakland.edu) on Wednesday, June 4, 2014
Modified by Colleen Campbell (cjcampbell@oakland.edu) on Wednesday, September 3, 2014
Article Start Date: Wednesday, June 4, 2014