Monday, June 2, 2014
Summer Course brings acclaimed authors, illustrators to campus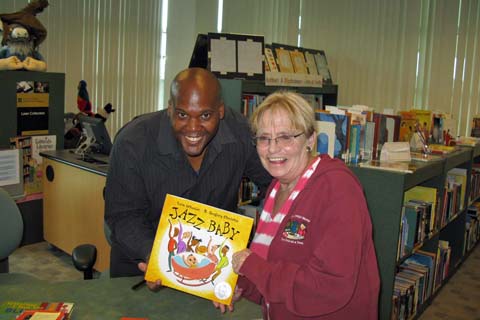 Grad student Sally Rosberg with illustrator Gregory Christie in the Educational Resources Lab with a book written by a Michigan author, Lisa Wheeler.
Talented authors and illustrators will visit Oakland University this summer as part of a course designed to enhance appreciation for arts and literature.
The course, Reading (RDG) 570 - The Author's and Illustrator's Art and Craft, will feature a series of talks from writers and artists who will discuss their work with students. Guest presenters include:
Cybele Young – Awarding-winning artist and illustrator of several books for children, including "Out the Window," an accordion-fold board book, nurtures imagination in her readers. She has most recently written and illustrated "A Few Blocks," a Kirkus Best Children's Book and "Ten Birds," winner of the Governor General's Award for Illustration.
Steve Sheinkin - award-winning author of several books on American history for young adults. His 2012 title "Bomb: the Race to Build – and Steal – the World's Most Dangerous Weapon," has garnered numerous accolades, including a Newbery Honor, the Sibert Medal, the YALSA Award for Excellence in Nonfiction for Young Adults, and was a finalist for the National Book Award. His book "The Notorious Benedict Arnold" won both the YALSA Award for Excellence in Nonfiction and the Boston Globe/Horn Book Award for nonfiction. His most recent titles are "Lincoln's Grave Robbers," a true-crime thriller, and "El Iluminado," a graphic novel written with Ilan Stavans.
Helen Frost – Poet, playwright and children's writer whose book "Keesha's House" won a 2004 Michael L. Printz Honor Award from the American Library Association, which annually recognizes the "best book written for teens, based entirely on its literary merit." Her other award-winning titles include "Hidden," "Diamond Willow" and "The Braid."
Chris Raschka – A two-time Caldecott Medal winner for his books "The Hello, Goodbye Window" and "A Ball for Daisy." The award annually recognizes "the most distinguished American picture book for children."
Joe Cepeda – Illustrator of the award-winning picture books "What a Truly Cool World" and "Nappy Hair." He received the Recognition of Merit Award for 2000 from The George G. Stone Center for Children's Books. A member of the Graphic Artists Guild, his illustrations have appeared in publications such as The Los Angeles Times and Buzz, Inc. Magazine.
James Ransome – Winner of both the Coretta Scott King Award for Illustration and the IBBY Honor Award for his book, "The Creation." He has also received a Coretta Scott King Honor Award for Illustration for "Uncle Jed's Barbershop," which was selected as an ALA Notable Book and was featured on "Reading Rainbow." His books "How Many Stars in the Sky?" and "Sweet Clara and the Freedom Quilt" were also "Reading Rainbow" selections.
Sarah Miller – A Michigan native, Miller is the author of "Miss Spitfire: Reaching Helen Keller," which was named an American Library Association Best Book for Young Adults and nominated for numerous state award lists. Her book "The Lost Crown," presents a portrait of czarist Russia through the eyes of the famed Romanov sisters.
Ron Koertge - Author of many celebrated novels, including "Stoner & Spaz," "Strays," and "The Brimstone Journals," all American Library Association Best Books for Young Adults; "Shakespeare Bats Cleanup," an American Library Association Top Ten Sports Books for Youth Selection; and "The Arizona Kid," an American Library Association pick for "one of the ten funniest books of the year." He is a two-time winner of the PEN Literary Award for Children's Literature.
Merrie Haskell - Her first novel, "The Princess Curse" was a Junior Library Guild selection and a finalist for the Mythopoeic Fantasy Award for Children's Literature. Her second novel, "Handbook for Dragon Slayers," won the Schneider Family Book Award 2014. Her forthcoming book, "The Castle Behind Thorns," is an enthralling work of fantasy fiction due out in May 2014.
The course will be taught by Linda Pavonetti, Ed.D., professor and chair of Oakland's
Department of Reading and Language Arts
. She says that cultivating literary and artistic appreciation is at the heart of the course.
"The emphasis in this class is on the quality of the writing and art, not on teaching or using the books as educational or moral tools," Dr. Pavonetti explained. "We try to foster a love of language and a deeper appreciation of the art. Many of our guest lecturers write for adults as well as children, and most of the artists create gallery art as well as illustrative works."
"One of the components of the class that I work very hard to incorporate is diversity--not only in genre but also in the racial appeal of the books. To ensure authenticity in this regard, I have invited people who represent different races, ethnicities and sexual orientations."
COURSE INFORMATION:
Class meets the week of June 30 through July 23 from 8:30 – 11:50 a.m. Monday through Thursday in 302 Pawley Hall and can be taken for two or four credits at the graduate or undergraduate levels. Cross-listed as RDG 490. Undergraduate students interested in taking the course must contact Dr. Pavonetti for permission. Course Registration Number is 31049. For additional information, view the
course website
or contact Dr. Pavonetti at
pavonett@oakland.edu
or (248) 370-4683.
The Author's and Illustrator's Art and Craft fosters a love of language and a deeper appreciation of the art.

Created by Colleen Campbell (cjcampbell@oakland.edu) on Monday, June 2, 2014
Modified by Colleen Campbell (cjcampbell@oakland.edu) on Wednesday, September 3, 2014
Article Start Date: Monday, June 2, 2014