Wednesday, May 28, 2014
Oakland to construct state-of-the-art indoor practice facility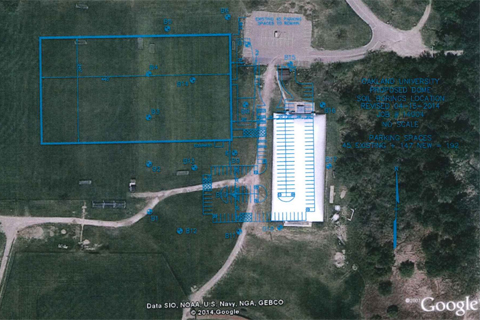 Oakland student-athletes will enjoy a new, $4.9 million, 108,000-square foot, multipurpose training facility, announced by Interim Director of Athletics Robby Stewart on Friday. The Oakland University
Board of Trustees
approved the project on May 7, 2014.
"We are very thankful to the Board of Trustees, Betty J. Youngblood, Tracy Huth, John Beaghan, Eric Barritt, Tony Moscone and Mike Moscone for all their efforts on this project," said Stewart.
"The indoor facility will be attractive to prospective student-athletes, and will substantially improve efforts to coordinate the scheduling of practices and classes in such a way as to provide greater educational flexibility to our student-athletes."
The project involves replacing an existing, 29,000-square-foot athletic practice facility on the Lower Fields of OU's campus. The new facility will be leased to the Total Sports Complex company during off-hours. TSC will reimburse Oakland University over the course of a 15-year agreement.
The new dome will address current practice shortcomings including insufficient restroom, storage and parking space. It will allow student-athletes to train and practice year round, and will feature a full soccer field, and baseball and softball hitting cages. The space is large enough to support multiple teams at one time.
Oakland will now have one of the top indoor facilities on campus in the Horizon League. The University is also building a new track and field and tennis complex as part of its
Upper Fields project
, launched in March 2013. Both the Upper Fields and Lower Fields projects are scheduled to open in fall 2014.
It will allow student-athletes to train and practice year round, and will feature a full soccer field, and baseball and softball hitting cages.

Created by Colleen Campbell (cjcampbell@oakland.edu) on Wednesday, May 28, 2014
Modified by Colleen Campbell (cjcampbell@oakland.edu) on Friday, July 18, 2014
Article Start Date: Wednesday, May 28, 2014