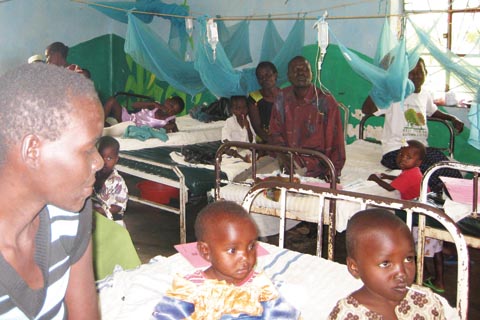 Lindsay Murphy finds that in Kenya where there is a severe shortage of nurses, the scope of practice is broad, yet liberating.

By Alice Rhein
Each year, many Oakland University nursing students and alumni choose to participate in medical missions. Some do it out of adventure, others out of a sense of moral or religious obligation, still others for an opportunity that may further their career.
Whatever the reason, there is no doubt that the experience broadens their worldview of health care issues and ultimately helps them become better nurses.
For two former students, Lindsay Murphy (BSN '09) and Sanjeev Pillai (BSN '12), made decisions to participate in medical missions in Africa – Murphy in Kenya and Pillai in South Africa – that shaped their nursing careers in ways neither one of them could have imagined prior to the plane touching down in a sub-Saharan country.

A different norm
"As an American health care professional, you very quickly find that, 'What would I do?' becomes almost a mantra, not only for the lack of resources, but also for the instant promotion you get when you touch down on Kenyan soil," says Murphy, who notes that the country's severe shortage of nurses, coupled with the lack of physicians in rural areas and midsize cities, creates a workplace where scope of practice is broad, but also liberating.
"You have your own two hands, five senses and one brain with which to make a diagnosis. That's it, " she said. "There is no lab, no radiology, no secondary or tertiary medical facility for you to refer to, no data access for your smartphone, and 'clinical decision support system' means you ask your colleague across the hall, 'Hey, can you come take a look at this for me?'"
Murphy, who grew up in metro Detroit and is now a nurse at Beaumont Hospital in Royal Oak and Troy, was one of a 19-member Kenya Relief Team that spent 10 days in Migori Province in Western Kenya to perform cataract surgeries, deliver general ophthalmic care and general medical care, as well as provide food and medical aid to rural populations in that area.
In those first few hours in the clinic, Murphy says she felt like she saw every non-textbook case there was – almost as if finding "zebras" was the norm. "Of course, in Kenya, zebras, as in the animal, are everywhere, while horses are exceedingly rare," Murphy noted, suggesting that the common aphorism "When you hear hoofbeats, look for horses, not zebras," doesn't apply in Kenya. "Once I realized that the cases weren't really that difficult to diagnose, and that I was actually keeping up clinically with people whose training far exceeded my own, I was able to settle into the role much more effectively."
That role, unfortunately, came with the responsibility of finding a metastatic neuroblastoma in a 10-month-old whose eye was swelling and protruding. "We referred him to Nairobi for emergent consultation, but we knew the damage was likely already done. In the States, this tumor is 70-90 percent curable. There, the odds are not that good.
None of us felt good after that case," says Murphy.
Yet Murphy also points to the positive results of the team's impact, such as when a 3-year-old came to the clinic after being hit in the eye with an acacia, an ubiquitous tree notorious for its surgically sharp thorns. This little boy had been out playing sticks and was struck by a branch and the thorn lodged in his paracentral cornea. His mother bypassed the district hospital and brought him to the clinic where the ophthalmic team took him to OR and removed the splinter under anesthesia, started him on antibiotics and patched his eye. He made a full recovery.
The team consisted mainly of Beaumont physicians and staff, and Murphy says one girl waited a full year until the team returned to complete her cataract surgery. "As I was examining her, she told me in broken but clear English, 'One year ago you fixed my other eye. It is perfect. I waited for you to return for my other eye to fix,'" says Murphy, who found out upon her return that the same ophthalmologist who had originally trained her years ago had done the girl's surgery the prior year.
"Some things really do come full circle," she says.

The little things
For Pillai, his trip to South Africa was also completing a circle. His first experience with the Zulu tribe and African Christian Ministries in 2009 convinced him to pursue nursing. Accepted into OU's summer 2011 Accelerated BSN program, Pillai says his return to South Africa after graduation was a reunion gift to himself.
While Murphy worked in an area with limited resources, Pillai worked in a South African facility with dirt floors and limited light. It was well equipped in comparison, but access to health care in South Africa continues to be scarce. In the five-day clinic, the 20-member team that Pillai worked with treated about 850 patients, most from the Zulu tribe who've come to expect this medical team every year.
"The clinic runs similar to an urgent care. We didn't treat chronic diseases like hypertension, diabetes or HIV; we treated malnutrition, colds and skin rashes," says Pillai, who grew up three miles from the Oakland University campus.
Pillai said on the day of the kids' clinic, the team treated nearly 400 children, many of whom were diagnosed with hookworms. One boy was not too keen on taking the treatment, mebendazole, so Pillai offered to play with him if he'd take the medicine. "I was sick with the flu that day, but the treatment was more important for him so we played soccer and then he took the medication."
Pillai says it's these small experiences that will likely take him again and again to Africa and Haiti, where he has also provided treatment to residents. "Medical missions have become a staple in my life. My intention is to volunteer annually in third world countries," he says. "I highly suggest that everyone should take the opportunity to serve overseas and see how those in the third world have to survive on barely anything and how they seek and receive health care."