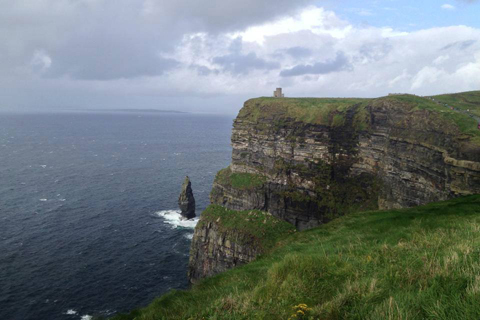 Twenty-eight Oakland University students receive scholarships totaling $45,900 to support study abroad programs in 2014 summer and fall semesters.
Four OU students, Evan Jones (China); Myranda Rees (Tanzania); Holly Lustig (England); Daniel Gildner (Spain) each received a $500 or $1,000 Alumni Study Abroad Scholarship awards from from the OU Alumni Association. The Alumni Association encourages students to take advantage of the opportunity to enhance their understanding of the global economy and world cultures.
Twelve OU students each received a $500 award from the Oakland University Sharp Scholarship program for Study Abroad. The James A. Sharp and Tessie Baltrip Sharp Scholarship Award program recognizes the tremendous academic and career benefits of learning about other cultures.
The Sharp recipients and their study-abroad countries are Jossette Bailey (Montreal, Canada); Whitney Balkany (Spain); Sarah Beaujean (Florence/Rome, Paris and Amsterdam); Morgan Dean (England); Erinn Gustafson (Italy); Emily Klein (India); Joshua Kolpak (Spain); Michael Kurtagh (China) Kara Olsavsky (England); Karen Li (Argentina); Brianne McGrath (Spain); and Michael Pulis, (Japan).
Alumni Study Abroad and Sharp award applications are accepted twice per year. Forms and details are available on the International Education website.
The Jenna Balabuch Study Abroad Scholarship for English majors planning to study abroad is intended especially for participants in the British Studies at Oxford Program. Amanda Armstrong (England) received this year's $1,000 award.
Carly Puzniak received the prestigious Boren Scholarship totaling $20,000 for her study abroad in Rabat, Morocco during the 2014-2015 academic year where she plans primarily to study Arabic and possible political science, religion, sociology, women's studies, history, and Amazigh electives.
"I studied abroad last summer in Israel and realized that one month was simply not enough time to thoroughly explore another country, language, and culture. I started researching long-term programs almost immediately after my return. I knew I wanted to study in North Africa," said Puzniak. "My first and second choices were Egypt and Tunisia, respectively. However, due to travel warnings and political unrest and uncertainty, I chose Morocco. I find its history and cultural diversity fascinating and it has been a lifelong dream to travel there."
David L. Boren Scholarships and Fellowships are sponsored by the National Security Education Program (NSEP), a major federal initiative designed to build a broader and more qualified pool of U.S. citizens with foreign language and international skills. Boren Awards provide undergraduate and graduate students in the United States with resources and encouragement to acquire language skills and experience in countries critical to the future security and stability of our nation. In exchange for funding, Boren award recipients agree to work in the federal government for a period of at least one year.
OU study-abroad partner organization CIEE awarded Emily Klein (India) the $1,000 Michael Stohl Scholarship; Chloe Bennett (Ireland) a $1,200 GAIN: Global Access Initiative Grant; and Megan Slovisky (Bonaire) a $750 GAIN: Global Access Initiative Grant for Summer 2014. Myranda Rees (Tanzania) received a $1,500 GAIN grant for Fall 2014. CIEE awards more than $3 million in scholarships to help make international education a reality.
The Japan Center for Michigan Universities Awarded scholarships for Japan study abroad in Summer 2014. Awards recipients Jennifer Hayes, and Jonathan Evans each received $2,000 for Language studies; James Toering received $1,500 for Comparative Health Studies; and James Kase received $350 for Comparative Social Organization. Fall 2014 award recipients, Letitia Panea, Samantha Marino, Trevor Shackelford, and Gerald Seppala each will receive $1,900.
For more information about study-abroad scholarships and programs, visit oakland.edu/ie or the International Education Facebook page.
Scholarships totaling $45,900 support study abroad programs in 2014 summer and fall semesters.

Created by Colleen Campbell (cjcampbell@oakland.edu) on Tuesday, May 13, 2014
Modified by Colleen Campbell (cjcampbell@oakland.edu) on Wednesday, September 3, 2014
Article Start Date: Tuesday, May 13, 2014