Friday, May 9, 2014
Michigan conference promotes undergraduate research endeavors
Written by Kelli M. Titus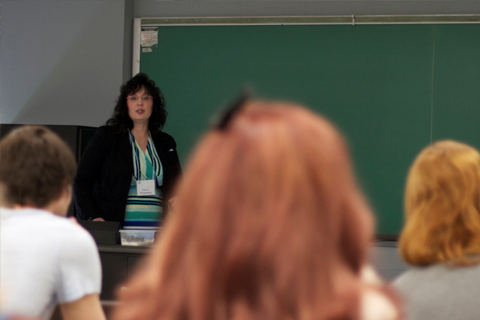 Lisa Montgomery gives an oral presentation on "Ernest Ludwig Kirchner's Philosophy of Art."
Innovative research from top Michigan universities come together at the 22
nd
Annual Meeting of Minds (MOM) conference at Oakland University.
"MOM gives our undergraduate students a wonderful opportunity to present the products of their research and scholarship activities to a friendly audience that will assist them in developing and testing their presentation skills," said Robby Stewart, associate dean of OU's College of Arts and Sciences.
MOM is a daylong conference in which students from Oakland University, the University of Michigan-Dearborn and the University of Michigan-Flint gather to present research through visual and oral presentations. The initiative showcases the results of student-faculty collaboration across all academic disciplines.
Former OU student Andrea Kozak presented at MOM in 1995, when her research efforts led to national presentations. She earned her Ph.D. in clinical psychology, and eventually returned to OU as an associate professor in psychology.
"She has gone 'full circle' in that her students are now regularly presenting at MOM," Stewart said.
One of Kozak's students, Adrianna Sesi, presented her research on "The Link Between Mindfulness and Distress." Sesi is a senior psychology major and sociology minor at Oakland. Her research interests include lifestyle choices, nutrition, stress, meditation and mindfulness.
"Mindful awareness and acceptance are related to one's ability to tolerate distress," Sesi noted in her research findings. "This suggests that mindful training might be an effective treatment for increasing distress tolerance."
This year, more than 140 students are presenting their research to the nearly 300 people registered to the event.
Lisa Montgomery is among those student presenters, combining her love of German culture and art into her research project, "Ernst Ludwig Kirchner's Philosophy of Art." Montgomery is a junior at OU majoring in art history with a minor in German language and literature.
"Kirchner's art is colorful and fascinating because it stretches beyond the norm and challenges the patterns and colors of nature," Montgomery said.
"Because of my minor, I was able to read in the German language text and letters about Kirchner and this helped me to fully understand that this artist's passion was one of freedom and spiritual expression."
More than 140 students are presenting their research to approximately 300 registered guests at Oakland University.

Created by Colleen Campbell (cjcampbell@oakland.edu) on Friday, May 9, 2014
Modified by Colleen Campbell (cjcampbell@oakland.edu) on Friday, May 9, 2014
Article Start Date: Friday, May 9, 2014