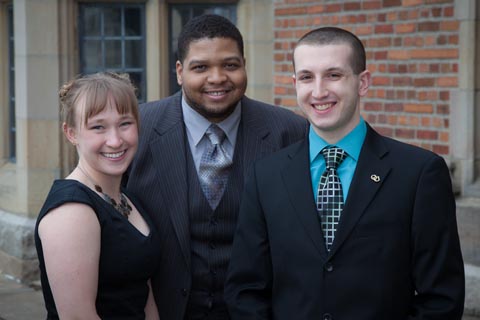 Caymen Novak, Christopher D. Keemer and Trpko Shawn Blazevkski receive OU's most prestigious student awards.
Oakland University's Board of Trustees honors three outstanding Oakland University students for distinguishing themselves as successful scholars and individuals of outstanding character.
Trpko Shawn Blazevski, a senior majoring in information technology, received Oakland's 2014 Alfred G. Wilson Award; Caymen Novak, a senior majoring in mechanical engineering received the 2014 Matilda R. Wilson Award; and Christopher D. Keemer, a recent graduate in psychology, received the 2014 Human Relations Award at the board's Wednesday, May 7 meeting.
The Wilson awards – the most prestigious honors Oakland University presents to students – have recognized the university's top male and female scholars and leaders since 1965. They commemorate the Wilson family, which donated land and financial support to help found the University in 1957.
The Human Relations Award recognizes a student who has made a valuable social impact within the University community.
A committee that reviews nominations from faculty and staff members selects award recipients each spring. Recommended candidates are ultimately approved as honorees by the vice president for academic affairs and the president.
This year's honors continue an Oakland tradition that has been in place for nearly half a century. Proud OU alumnus David Baker Lewis was among the very first recipients.
"It's hard to believe that 50 years have gone by already. I remember being quite honored, and very much moved to be designated as a Wilson awardee," he said.
"While I was a student, I became a member of a singing group and the Oakland University Chorus, which were organized by Dr. Walter S. Collins, II, then chair of the Department of Music at Oakland. We became good friends. I believe it was Wally Collins who nominated me for the Alfred G. Wilson Award. I also believe it was Wally who wrote the citation for the award. It was a great, humbling honor then and still is."
Lewis added, "There is a great deal of enthusiasm and excitement about growing this institution into its rightful place among four-year universities. The 50th anniversary of these awards is another point in time to celebrate the strides the Oakland University family has made in achieving the educational and philanthropic vision of Matilda and Alfred Wilson."
2014 Alfred G. Wilson Award
With a 3.95 GPA, Trpko Shawn Blazevski is a member of the Golden Key International Honor Society and the Alpha Lambda Delta Honor Society, and has won academic accolades including Dean's List recognition for three years, the Academic Achievement Award, and first-place honors in the Senior Capstone Design Competition for Memcomb, a memento archiving app.
Outside the classroom, he is active in the Association for Computing Machinery, the Association for Information System, and Technology and Leadership Keys (TALK), a student group dedicated to helping fellow students find their vocational passion. Perhaps most notably, Blaveski is founder of the Oakland University Cyber Security Club (CyberOU).
"It is amazing to me that Trpko was able to get large groups of students already taking full course loads to join CyberOU, an organization that effectively gives them more work," said Dr. Wenjin Zhou, assistant professor of engineering.
"Of course, this is good work, expanding the education of the students and bringing an accomplishment to the University at large that is recognized by organizations inside and outside of the University."
Other faculty members have described Blazevski as professional, diligent, highly engaged, community minded and an innate leader.
"Even with Trpko's busy schedule, he never fails to lend a helping hand to fellow students that require it. So he is not just a good leader and good student, he's a good person," said George Corser, a Ph.D. candidate in computer science and engineering.
"Trpko represents the best of the best at Oakland University."
2014 Matilda R. Wilson Award
Caymen Novak has acquired a remarkable breadth of academic, volunteer and community engagement experiences during her time at OU. A student in the Honors College, she maintains a 3.95 GPA, has won a Provost Undergraduate Research Award and has been recognized as a Dean's Scholar and Presidential Scholar. In addition, she is a member of the Alpha Lambda Delta, Golden Key International and Tau Beta Pi Engineering honor societies.
Novak augments her classroom work with involvement in numerous engineering research groups and activities, as well as in the Engineering Society of Oakland University and the Society of Women Engineers.
She gives back to the University community as a teaching assistant, academic peer mentor, Imagineers Engineering Program instructor, leadership consultant, math and engineering tutor and student orientation group leader.
"She is a gifted student who combines serious study with a genuine concern for the OU community and the community that surrounds us," said Carmen Etienne, director of School of Engineering and Computer Science Advising.
"Her positive energy is hard to ignore and her drive to always do everything better is evident."
Outside of scholarly pursuits, Novak is a member of the Oakland University Track and Field Team and involved in intramural sports, the Judo Club, the Juggling Club and the Student Alumni Association.
"Caymen's dedication, campus involvement, volunteerism and work ethic are unparalleled and it is clear to me that Caymen should serve as a role model to all OU students, said Dr. Laila Guessous, associate professor of mechanical engineering.
2014 Human Relations Award
With a goal to become a clinical psychologist, Christopher D. Keemer maintained a 3.20 GPA at Oakland after earning an associate degree in general studies, cum laude, from Wayne County Community College. He was a member of the Psi Chi national honor society in psychology and the Neurology Club.
Keemer served as vice president of Active Minds at Oakland University, a student group that he played a central role in establishing on campus. The group works to raise awareness of mental health issues, to break social stigmas associated with it and to encourage students to reach out for help when they need it.
"Chris is one of the most passionate and hardest working undergraduate students that I have had the pleasure of knowing," said Dr. David Schwartz, director of the Oakland University Counseling Center. Keemer regularly volunteered to assist the center with alcohol, depression and anxiety screening programs.
Dr. Schwartz added, "I have witnessed first-hand the positive impact that Chris has had on the OU student community, and I have also heard from many other students about how his work here at OU has positively affected them."
The curious, eager, passionate and disciplined student leader also volunteered with the Oakland University Center for Autism Research, Education and Support (OUCARES), and assisted Dr. Virgil Zeigler-Hill, associate professor of psychology, in a self-esteem and conformity study.
The Wilson awards honor students who distinguish themselves as successful scholars and individuals of outstanding character.

Created by Colleen Campbell (cjcampbell@oakland.edu) on Friday, May 9, 2014
Modified by Brian Bierley (bierley@oakland.edu) on Monday, May 19, 2014
Article Start Date: Friday, May 9, 2014