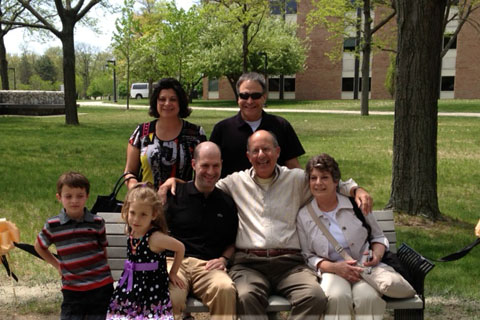 Friends and colleagues of Barry S. Winkler, Ph.D. raised money to name a bench and establish a scholarship in his name upon his retirement from Oakland University.

By Rachel Montgomery, student writer
Barry S. Winkler, Ph.D. served as a researcher and professor at the Oakland University
Eye Research Institute (ERI)
since the 1970s and mentored more than 50 undergraduate students in his laboratory. Winkler enjoyed helping students and colleagues who admired him while getting to know them. As he approached retirement, he and his colleagues would often joke about how he wanted a bench — like the many benches around campus honoring former employees — named in his honor.
"I used to joke that I would paste a plaque to a bench before I left," Winker said. He even went to the hardware store and had a plaque made.
When Winkler announced his plans to retire, the ERI wanted to send him off with a gift and a surprise retirement party for all the support and hard work he gave his students and colleagues. When gift ideas were being proposed, Mary Duenow, Winkler's research assistant in the ERI, remembered the bench.
"He had been talking about it for years, so I knew that would be a great way (to honor him)," Duenow said.
Duenow and colleagues established a gift fund through the
Office of Annual Giving
so friends and colleagues could have a place to donate to the campus bench. Meanwhile, Duenow contacted Winkler's many former students, colleagues and friends about the bench they wanted to name in his honor. People from Japan and Australia responded as did the staff and owner of Spargo's, the Coney Island Winkler frequents for breakfast.

In order to get Winkler to the retirement party, his ERI colleague, Andy Goldberg, resorted to a trick. For weeks, Goldberg asked Winkler to consult on some experiments he was planning that involved approaches he used in his laboratory. "He told me that he could only meet on a Saturday in
May, that he was too busy during the week to meet," Winkler said.


It took some extra persuasion, but after speaking with his wife, Susan, he decided to go.
"After our meeting, Andy said he had to show me something across the University," Winkler said. "When we arrived at the Oakland Center, we went inside and Andy led the way to the Gold Rooms. When I opened the door, there it was — lots of people applauding. My two grandchildren, Aiden and Zoe, came running to me with big hugs."

"When Barry walked into the room," Duenow recalled, "he was totally taken by surprise, and then became very moved and excited. It was harder to keep the event a secret, since so many people were involved, but everyone managed to keep it a surprise."


Friends and colleagues raised enough money to name a bench in his honor, but to also establish a scholarship in his name. The Barry S. Winkler Scholarship will provide scholarships to students who have completed the Summer Undergraduate Program in Eye Research (SUPER), or are in junior standing in the
Honors College
, where Winkler also taught while at Oakland. The scholarship will be awarded alternate years between students in the ERI and students in the Honors College.
Winkler's bench is located outside the Oakland Center. OU Facilities installed a bronze plaque which comes with named benches. As for the plaque Winkler had made for himself, at the retirement party, friends and colleagues presented him with a wooden bench they had made special for the plaque. The small bench, given to him by friends, is at his house.
For more information on bench-naming opportunities on campus, please contact Adrianne Penney at
penney@oakland.edu
or visit the
Giving
website.
An ongoing joke about pasting a plaque to a bench upon his retirement leads to a generous gift from colleagues and students.

Created by Colleen Campbell (cjcampbell@oakland.edu) on Thursday, May 8, 2014
Modified by Colleen Campbell (cjcampbell@oakland.edu) on Friday, May 9, 2014
Article Start Date: Thursday, May 8, 2014