, was one of the winners of the Birmingham First United Methodist Church Young Artists Competition and, along with the seven other winners, he played with the Birmingham Bloomfield Symphony Orchestra at a May 3 concert at the church. Alex played Rachmaninoff's 2nd piano concerto, movement III,.
This summer most of our theatre design and technology majors will be helping to put on the show as they take up jobs in summer stock. Graduated senior Laura Gist has accepted a stage management internship at the Hangar Theatre in New York. Two senors are heading east. Dan Robinson will work as the assistant lighting designer/master electrician at Maine State Music Theatre, and Josh Williams will be the sound designer at Forestburgh Playhouse in New York. Four juniors have also found positions that will give them great experience. Chris O'Meara will work as an electrician at the Utah Shakespeare Festival; Jason Maracani as a scenic painting intern at the Texas Shakespeare Festival; Kyle Blasius as the assistant technical director at Interlochen Center for the Arts; and Ashley Gaal as a scenic painting intern at Surflight Theatre in New Jersey.
The biggest show on campus is commencement, and we send all our best wishes to our graduating seniors. We'll still be thinking of you as you move on to the next phase of your life and we hope you will spare us an occasional thought! If you want to continue to receive Oakland news, including updates on your soon-to-be former college friends, please send a current email address to
gellis@oakland.edu
. Read on for alumni news; it will soon be your news!
Alumni News
The show currently running at Meadow Brook Theatre,
The Andrews Brothers
, offers an opportunity to enjoy the work of several OU alums. Musical theatre alum
Allison Hunt
is in the cast, theatre design and technology alum
Jennifer Price Fick
designed the set, trumpet performance masters alum
Chris Napier
is in the band, and acting alum
Travis Walters
is the director.
The show runs until May 18.
A few months ago we told you about Sara Chiesa
and her work as a collaborative pianist and Emerging Artist Apprentice Coach with the Virginia Opera. We are happy to update you with the news that Sara has completed all the requirements for her doctorate from Florida State University. While at OU, Sara studied with Mary Siciliano. Sara will take up her new position this fall as coach with the Arizona Opera, after spending the summer working at Saratoga Opera. Congratulations, Sara!
Closer to home,
music alum
Karen Newman,
whom many of you will have heard singing the national anthem at the Red Wings games, was recently featured in an article in
the Detroit Free Press.
Voice alum,
Amy Blevins,
who won the 2005 MaTilDa Award for Outstanding Student in Voice Performance, sang in an Easter concert for the Friends of the Opera of Michigan at St. James Catholic Church in Novi. Read more about Amy and the concert in
the Observer and Eccentric here.
Emily Mitchell
(B.F.A. '13)
landed in Detroit with her touring show
Bring it On
in April and she made a really big splash! She was featured in several local media outlets. Here are a selection: Read about Emily in
Encore Michigan here,
in
the Detroit News here
, and and listen to her
interview with WJR here.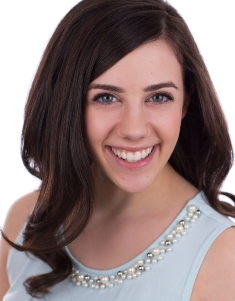 We heard recently from another another musical theatre alum,
Grace Griffin
, who is living in New York, where she is signed to agents Charles Kerin & Associates. She is auditioning and also working on her own songs; you can listen to Grace's music on her website
www.iheartGG.com
. Her recordings are produced by
Sam
Morykwas,
a recent Michigan grad who, Grace said, does production for many Detroit hip hop artists. She writes, "I am currently in the process of finding a venue [in the Detroit area] for the EP release show." When we get word of the venue, we will pass it along to you.
Brian Witkowski
(M.M. '08) recently sent his former teacher Professor
John-Paul White
an update on his latest professional activities. Brian finished his education with a D.M.A. with emphasis in Vocal Performance and a minor in Theatre Arts from the University of Arizona. From May 19 to 29 Brian will be performing in China. He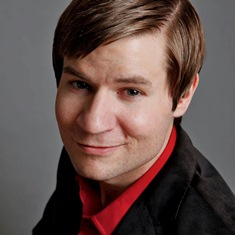 writes, "I will be taking up an artistic residency at the inaugural 'Liederfest in Suzhou' at Soochow University in Suzhou, which is located outside of Shanghai. The festival will consist of a variety of concerts, recitals, masterclasses, scholarly lectures and more. Notable works I will be performing will include Beethoven's
An
die ferne Geliebte
song cycle, Paul Bowles'
Blue Mountain Ballads
, Leonard Bernstein's
Arias and Barcaroles
, and Brahms'
Liebeslieder Walzes
. Liederfest will also focus on the interpretation and performance of ancient Chinese art songs."
Read more about the festival here.
After he returns from China, Brian will appear at the Heartland Festival in Wisconsin as the doctor in
Next to Normal
(June) and Farquaad in
Shrek
(July).
Read more about the festival here
.
Another former music student, pianist
Ronaldo Rolim
, who studied with Professor Emeritus
Flavio Varani
, is enjoying a very successful performance career as both a soloist and a chamber musician. This fall he will become a Doctor of Musical Arts candidate at the Yale School of Music. Read more about
Ronaldo on his website here
.
Percussionist
Ari Hajek
, who
we featured in a previous Prism
, will continue his studies at Carnegie Mellon University, where he will work towards an Advanced Music Studies Certificate. Ari writes, "It's a one-year program for which I will only be required to take lessons, thus affording me the opportunity to travel the country, taking as many auditions as I want, and with all of the practice time in the world!" He is looking forward to working with some great teachers. He concludes, "This next year is gonna rock!"
In our last news article we told you that alum
Julia Holt
(M.M. '06) was elected to conduct one of the Michigan School Vocal Music Association State Honors Choir in 2016. We're happy to tell you that Julia's hard work and dedication have won her even more recognition. She has been named Macomb County High School Teacher of the Year! Julia teaches at Eisenhower High School and Malow Junior High for Utica Community Schools.
Read more here
.
Alum
Dakota Cooper
has been blogging this year about using iPads to help enhance his students' music education. He teaches at Carpenter and Webber Elementary Schools in Lake Orion Community Schools. You can read his feelings
about the impact this innovation has had here
. The iPads themselves have been on loan from OU through the agency of Professor
Deborah Blair
whose research has focused on this area for some time. Read on to see where this research has taken Professor Blair.
Faculty News
Working with OU's Ideas 2 Business Lab (i2B) Associate Professor Deborah Blair has recently published her first iBook,
Songs for You and Me
. It is an illustrated collection of singalong songs for children of all ability levels. The book features children's folk songs "All the Pretty Horses," "Great Big Stars" and "Shalom," and is the first in a series that aims to promote inclusion in music classrooms. i2B offers help to students and faculty who want to launch new business ventures. If a proposal is accepted, the program can help develop an idea through to commercialization by drawing on the skills of experts from across the campus in business, technology, engineering, law, and from successful business professionals who serve as i2B advisors. Read more about this
innovative business concept here
. Dr. Blair's book is available through Apple iBooks.
We are looking forward with great excitement to the June 6 opening of the movie
The Fault in Our Star,
which features special lecturer in theatre and acting for the camera
Mila Govich
. The movie, which stars current Hollywood "it girl" Shailene Woodley, is expected to be huge. The trailer has already received more than 17 million hits on YouTube. You can see the trailer and much more about the movie
here on the official site
. Read more about Mila's role in the movie in this
OU story here.
Terry Herald
, who teaches classes in audio technology and is our technical coordinator and sound technician, is indispensable in so many ways. This spring the university recognized what we have known for so long and gave him an Outstanding Adminstrative Professional Award! Congratulations Terry.
Congratulations also to the second doctor in the Brown household.
Dr. Jenine Brown
successfully defended her Ph.D. dissertation at the Eastman School of Music in April. We are delighted to now have two Dr. Browns on our faculty and we will continue to do our best not to send Miles and Jenine each other's email!
Bret Hoag
, our classical guitar instructor, was featured recently in the Oberlin guitar alumni blog. Bret began studying with
Stephen Aron
while still in high school and it was always his plan to begin his collegiate music studies at Oberlin Conservatory.
Follow this link to the Stephen Aron Guitar Studio
online magazine and find the March 11 entry to read about Bret. You won't want to miss it. There is a joyous photo of the the guitar studio in 1999 and a beautiful photo of Bret and his family today.
Mezzo-soprano and voice instructor Alta Dantzler has recently returned from Toledo where she appeared in Faust with the Toledo
Opera. She forwarded to us what she called a "fun review" from the Toledo Blade. Fun, we think, and highly complimentary! "Mezzo Alta Dantzler is hysterical in the comic role of Marthe, leader of the local lonely hearts club who sees a bright future in a fling with Mephistopheles."
Our musical theatre vocal coach
Alissa Hetzner
, who is such an essential part of every one of our successful musical productions, was recognized by the community this spring. She was nominated by the Saginaw Arts and Enrichment Commission for their All Area Arts Awards. They cited her work in the region as a performer, instructor, accompanist, director, advisor and coach.
During the past semester Associate Professor
Mark Stone
shared his extensive knowledge and experience of World Music with two other universities. He was at the University of Wisconsin - Oshkosh with
Alison Shaw
and her percussion studio as part of their World Percussion Festival, and later, at the University of Michigan with the Center for World Performance Studies.
We were delighted to see
Charles Boles
featured on Live in the D on NBC Channel 4 recently. A well known and highly regarded Detroit area jazz pianist, Mr. Boles taught at Oakland University during the years when
Doc Marvin Holladay
ran our jazz program. Over the years Mr. Boles has played and recorded with some of the true jazz greats, but he has never before released a recording in his own name. But now, at what must be considered the latter end of his career, that oversight has been remedied.
You can see that television feature here.
We think you will be amazed by the list of people Mr. Boles has worked with over the last 60 years.
Finally, we are very proud to announce that
Professor Jackie Wiggins
, our esteemed chair, has been named the inaugural winner of Oakland University's Outstanding Graduate Mentor Award. Please read more about this
in the accompanying article.
We are delighted that her work with students has been recognized within the university but, of course, Dr. Wiggins' research and scholarship continues to win her widespread recognition in her field around the country and beyond. This summer Jackie will travel to Porto Alegre, Brazil to present at the International Society for Music Education (ISME) World Conference, along with Associate Professor Deborah Blair,
Dr. Sharon Davis,
both graduates of Jackie's Ph.D. program, and
Shinko Kondo
, who is a doctoral candidate. Towards the end of 2014, Jackie expects the release of the third edition of her widely used textbook
Teaching for Musical Understanding.
It will be published by Oxford University Press. We will let you know when we have a firm publication date.

Photos:
Top: The Oakland University Brass Band at the NABBA awards ceremony. Photo by Laura Kroesche
Upper right: Theatre students on their way to Chicago. Photo by Anthony Guest.