Wednesday, April 23, 2014
Meadow Brook Road closures April 23-25 for move out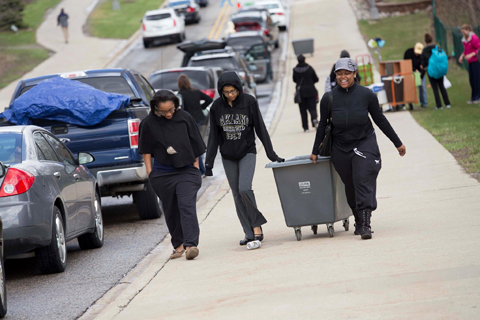 "Move Out" days in the residence hall areas generally result in significant congestion for vehicular and pedestrian traffic. This year is likely to be no different, particularly as construction of the new housing complex continues.
To help ensure safety and make this process as smooth as possible, the OUPD will close one lane of Meadow Brook Road from W. Oakland to Ravine resulting in a "one-way only" lane for east-bound traffic. This closure will take place on:
Wednesday, April 23, from 9 a.m. to 6 p.m.
Thursday, April 24, from 9 a.m. to 8 p.m.
Friday, April 25, from 9 a.m. to 8 p.m.
The partial closure will allow use of the closed lane for temporary parking, loading and departure of movers.
OUPD
personnel will be on site to provide traffic direction and control. All members of the campus community are advised to adjust travel routes accordingly.
All members of the campus community are advised to adjust travel routes accordingly.

Created by Colleen Campbell (cjcampbell@oakland.edu) on Wednesday, April 23, 2014
Modified by Colleen Campbell (cjcampbell@oakland.edu) on Wednesday, April 23, 2014
Article Start Date: Wednesday, April 23, 2014
Article End Date: Friday, April 25, 2014