Written by Kelli M. Titus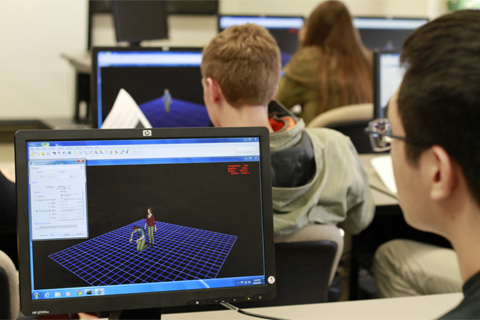 Seaholm High School students use a software that simulates a person in the workforce during STEMx during a workshop with professionals in OU's Industrial and Systems Engineering program. The course introduces students to research and data development.
Seaholm High School students are coming to Oakland University for an opportunity to learn design, research and data analysis from local professionals.
Doug Baltz, an adjunct lecturer at Oakland and AP Physics teacher at Seaholm, teamed up with Amy Butler, executive director of the OU INC business accelerator, to create a program called STEMx, which focuses on science, technology, engineering and mathematics.
The program expands OU INC's mission of helping young business ventures in the areas of energy, medical devices and information technology.
STEMX RESEARCH AND DESIGN
"I have a passion for science and math and so was introduced to STEMx," said Katie Rink, a senior at Seaholm High School. "I really like it."
STEMx introduces students to research and data development. During this course, students will learn essential steps in engineering design, scientific research methods and how to combine quantitative and qualitative methods of data analysis. This allows them to observe, inquire and enhance their knowledge about data.
"The STEMx Research and Design course is a unique academic conduit between high school students and professionals in the STEM-related fields," Baltz said. "This experience embeds authentic data collections and analysis with a number of mentors from the surrounding community."
OU INC hosted the first meeting of STEMx earlier this month, during which high school juniors and seniors were assigned mentors from the university and community. These faculty, staff and business professionals serve as mentors, providing "data experiences" for the students.
HUMAN MODELING SOFTWARE
Last week, Seaholm High School students met with Oakland University Industrial and Systems Engineering (ISE) professionals at OU's Product Lifecycle Management (PLM) laboratory to learn about an ergonomic simulation tool called Jack. Leading the lab was OU's professor of engineering and ISE Chair Robert Van Til, along with ISE graduate student John Katona.
Jack is Siemens PLM software used by companies worldwide to enhance employee productivity.
"It is a really great software, especially for high school and middle school students, because it is so visual," Katona said. "It also has the mathematical models and can perform advanced computations for engineers."
Katona has used Jack for several years and is now teaching others how to utilize the software's capabilities. His fascination with simulation software grew out of an interest in ergonomics.
"I have been interested in the other simulation software, like Arena and Plant Simulation, and I wanted to expand to others," Katona said. "Companies like Chrysler are using Jack, so I figured it would be a good tool to learn next."
The Jack software simulates a person in the workforce. This model can be adjusted to a specific height and weight, allowing users to create a computer simulation of a job and analyze:
if the workspace is ergonomically designed
how long the task takes to accomplish
the amount of force that is used
a person's field-of-vision
With this, the user can adjust or redesign the job in order to make it more efficient and safer for the worker.
"It's important for students to learn Jack because it gives them an introduction to what ergonomics and industrial engineering is," Katona said.
STEMx will continue until June of this year. Until then, the group of Birmingham high school students will shadow their mentors, conduct experiments, collect data and observe research projects.
With positive feedback and an overwhelming amount of community engagement, Baltz says that the STEMx Research and Design course will start up again in September 2014, and continue throughout the school year.
STEMx Research and Design course connects high school students and professionals in the STEM-related fields.

Created by Colleen Campbell (cjcampbell@oakland.edu) on Monday, April 21, 2014
Modified by Colleen Campbell (cjcampbell@oakland.edu) on Friday, September 5, 2014
Article Start Date: Monday, April 21, 2014