Jackie Wiggins, Ed.D., is the first winner of Oakland University's new Outstanding Graduate Mentor Award.
Jackie Wiggins, Ed.D., Professor of Music Education and Chair of the Department of Music, Theatre and Dance at Oakland University, has been named the inaugural winner of the University's Outstanding Graduate Mentor Award. The award was presented at the recent Founders' Day faculty recognition luncheon.
"Mentoring involves developing a personal relationship and taking a deep interest in a student," says Provost James P. Lentini. "Jackie embodies those traits and has spent her career contributing to her students' academic, intellectual and professional development."
With a career in music education practice and research spanning more than 40 years, Wiggins joined Oakland in 1994 where she has dedicated her career to helping college students succeed. She has taught graduate courses during that time and has grown the master's program into one of the nation's most successful music education programs.
Today, having chaired or served on more than 70 master's thesis committees, Wiggins focuses much of her attention on the growing doctoral program. It's a program she founded at Oakland with the first graduates earning their degrees in Music Education in 2006. Those graduates have gone on to become influential in a variety of ways.
Most recently, her mentee Miroslav Manovski's dissertation was chosen 2013 Dissertation of the Year by the Arts-Based Educational Research Special Interest Group of the American Educational Research Association.
"This Outstanding Graduate Mentor Award is very meaningful and humbling to me, as it is the students who nominate and make the case," Wiggins said. "I carefully scaffold the students' efforts, but in order to learn, it is they who do the hard work and pull the ideas together to construct their own understanding."
Wiggins added, "Supporting students as they learn is one of the most rewarding processes I experience in life. I am grateful for the opportunity."
Her book Teaching for Musical Understanding is the definitive resource on constructivist music education, now in its 3rd edition.
Wiggins is also considered an expert in qualitative methodology and arts-based research, a relatively new approach that enables arts researchers to incorporate artistic thinking and process into their research work. This innovative approach resonates strongly with arts education students learning to be researchers.
One nominator wrote, "Her encouragement, optimism, intelligence and zeal are conveyed through the knowledge she instills in her students."
Another nominator added, "Whether giving a global keynote, sparking new thought in a classroom discussion or guiding one-on-one, Jackie Wiggins personifies what teaching is and can be. Working with her was life-changing."
Nominations for the Outstanding Graduate Mentor Award are submitted by graduate students and the recipient is then selected by an award selection committee consisting of OU faculty and administrative representatives.
Award winners receive a commemorative plaque, a $1000 award to the selected faculty member and a $1000 award to support graduate student conference travel in the following academic year.
# # #
About Oakland University's Music, Theatre and Dance:
Oakland University's Department of Music, Theatre and Dance (MTD) is a leading center of performing arts education in southeast Michigan, offering outstanding educational and performance opportunities to undergraduate, graduate students, and community members. MTD students learn and grow as musicians, actors, dancers, designers, arts educators and researchers in a collaborative and supportive environment.

Students choose to study music, theatre, and dance at Oakland for the excellence of its faculty and programs, which are accredited by the National Association of Schools of Music, National Association of Schools of Theatre, and National Association of Schools of Dance.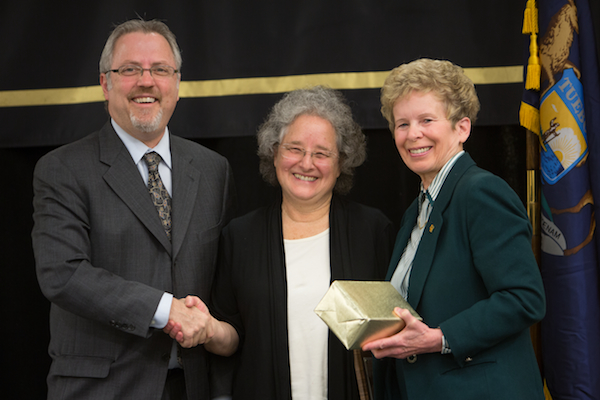 Jackie Wiggins is presented with her award by Provost James P. Lentini and Interim President Betty J. Youngblood

Jackie Wiggins, Ed.D., Professor of Music Education and Chair of the Department of Music, Theatre and Dance at Oakland University, has been named the inaugural winner of the University's Outstanding Graduate Mentor Award.

Created by Brian Bierley (bierley@oakland.edu) on Thursday, April 17, 2014
Modified by Colleen Campbell (cjcampbell@oakland.edu) on Tuesday, April 7, 2015
Article Start Date: Thursday, April 17, 2014