Tuesday, April 8, 2014
Film Workshop students shadow Detroit Pistons video production team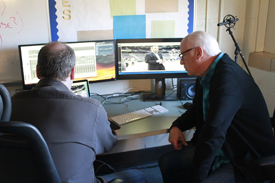 OUCARES Film Workshop

A 15-week program beginning in June

empower adults with ASD to develop the skills necessary for employment in the film/media entertainment industry

. Learn more
Students from the
Oakland University Center for Autism (OUCARES)
and Inclusion Films Adult Practical Film Workshop had the unique opportunity to spend a game day job shadowing the video production team of the Detroit Pistons leading up to their recent game against the Milwaukee Bucks. The experience capped off a full night of Autism Awareness programming at The Palace of Auburn Hills.
"The Detroit Pistons organization provided unprecedented access to our workshop students with developmental disabilities," said Joey Travolta, founder of Inclusion Films and workshop director. "The game day experience with the Pistons' production team was invaluable, giving our students insights they will use in filmmaking and in life. We're thrilled about this opportunity and so grateful to the Pistons for creating this experience."

"Just like basketball — filmmaking is a team effort — requiring individuals to perform at the best of their abilities to make the entire team succeed," Travolta said. "While coaches on the court train and motivate athletes to perform at elite level, Inclusion Films teaches, nurtures and inspires our workshop students to ensure their individual abilities shine, resulting in remarkable achievements."

The OUCARES/Inclusion Films Practical Film Workshop is a vocational program designed to provide adults with developmental disabilities an entry-level working knowledge of film and video production.

Students with developmental disabilities kick off Autism month with life-changing experience.

Created by Colleen Campbell (cjcampbell@oakland.edu) on Tuesday, April 8, 2014
Modified by Colleen Campbell (cjcampbell@oakland.edu) on Friday, April 11, 2014
Article Start Date: Tuesday, April 8, 2014