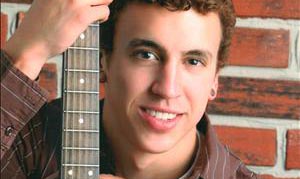 The Oakland University community is mourning the loss of a talented, energetic and outgoing student who died on Tuesday, April 1, in Leonard, Mich.
Adam Wilson, 25, will receive a Bachelor of Arts in Studio Art from Oakland in 2014 and is remembered by friends and family for his artistic talents and thoughtful personality. Wilson is also a 2007 graduate of Romeo High School.
"Adam was full of energy, emotions and ideas; sometimes they were an undercurrent, other times he wore them on his sleeve. He was polite, engaging, thoughtful, at times funny, very caring and always a willing participant in class discussions and critiques. Running into Adam in the hallways always put a smile on my face," said Vagner Whitehead, associate professor of art and chair of the Department of Art and Art History.
"Everyone who took a class with him ended up knowing him and appreciating him; he touched people's lives in a meaningful way, in his own way. As a teacher you sometimes come into contact with students whom you imagine you will be in touch for many years after they graduate, whom even sometimes you later become colleagues and friends. As he came close to graduation, I thought about what his next chapter was going to be."
Cody VanderKaay, assistant professor of art and director of the Studio Art program, added, "Adam was an intelligent and sincere young man; he inspired conversations that were passionate and thought provoking. We will miss him."
While studying at Oakland, Adam also worked in the university's Classroom Support and Instructional Technical Services department. There he made equally positive impressions on the many people with whom he interacted, both in terms of his warm character and his promising future.
"Adam Wilson was a well-liked and popular young man. A talented art student with endless creativity and a zest for life, Adam enjoyed playing the guitar, spending time with friends and was always with a smile on his face," said Steven King, technical support services event manager.
"Adam's computer knowledge and graphic design skills were continually expanding, as his interest into creative ideas keep him on the forefront of technology. Some of his art was displayed in the cafe at Kresge Library for many months."
King continued, "Adam and I had a very special bond as we would share many fun times and life's challenges. Adam would often bounce art projects and ideas off me and utilize technology into his schoolwork. He will be greatly missed by so many, I can only feel blessed to have been given an opportunity to know him and spend many days working closely together."
Adam had a similar affect on many acquaintances and friends, including George Preisinger, assistant vice president for classroom support and instructional technical services.
"Adam was highly sensitive to everyone's needs – especially our customers – and he did everything within his power to provide immediate assistance when someone was in need of help," Preisinger said.
"Adam always had a smile on his face, he had a magnetic personality, and was liked by all. He often talked of his brothers and family, of whom he was very proud. He will be missed by those of us he touched in so many different ways."
A visitation will take place from 2-8 p.m. on Friday, April 4, and from 10 a.m. to noon on Saturday, April 5. A memorial service will start at noon on April 5, followed by a reception. All services will be held at Lynch & Sons Funeral Directors, located at 39 West Burdick St., Oxford, Mich. In lieu of flowers, the Wilson family kindly welcomes donations to the Michigan Humane Society.
| | |
| --- | --- |
| Adam Wilson will receive his Bachelor of Arts in Studio Art. Some of his art was was displayed (examples seen above and to the right) in Kresge Library for several months. | |
Services are being held Friday, April 4 and Saturday, April 5. In lieu of flowers, the Wilson family kindly welcomes donations to the Michigan Humane Society.

Created by Colleen Campbell (cjcampbell@oakland.edu) on Friday, April 4, 2014
Modified by Kathleen Buchanan (kabuchan@oakland.edu) on Friday, April 4, 2014
Article Start Date: Friday, April 4, 2014