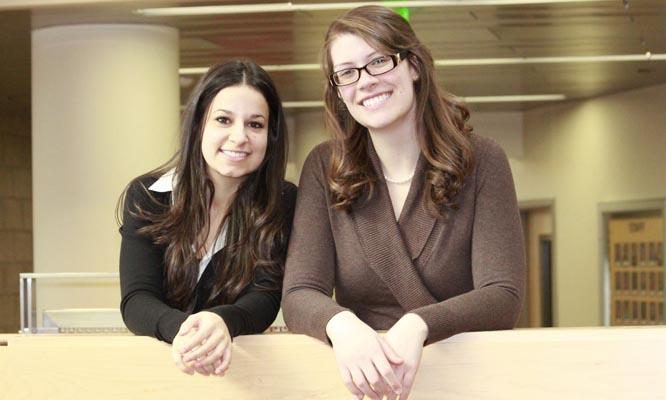 Photo by Andria Maurice
The results are in for the 2014 Oakland University Student Congress elections. Garnering 541 votes, Annie Meinberg and Liz Iwanski won the presidential contest and will lead the student body during the 2014-2015 year. Candidates Andre Mitchell and Kate Bergel finished second with 332 votes, followed by Bria Ellis and Andrew Laux, who received 206 votes.
"Liz and I are ready for the journey ahead. We are eager to hire our Executive Board members and begin to establish a team to serve the students," said Meinberg, OU's student body president-elect. "We are first and foremost here for the students. So even though we are going to be working on the initiatives on our platform, we encourage students to let their voice be heard and approach us with concerns, suggestions or whatever it may be."
Meinberg is a sophomore elementary education major whose campus involvement includes roles as an OUSC legislator, student coaching assistant for OU women's basketball and Orientation Group Leader. She has also been active on the OU Social Media Street Team, Student Program Board Annual Events Committee and the School of Business Administration Scholars program.
Iwanski, a sophomore Honors College student studying environmental science, will assume the office of vice president. She is eager to address students' needs, which she described as "constantly evolving." Like her running mate, Iwanski has a track record of leadership on campus, having served as an OUSC legislator and Judiciary Committee member, Orientation Group Leader and Student Program Board Annual Events Committee member. She is also a member of Alpha Lambda Delta and the German Club at OU.
Meinberg and Iwanski's campaign focused on the areas of student life, academics and sustainability. They have pledged to address student parking and transportation needs, increase support for students who are struggling academically and introduce more eco-friendly initiatives on campus. The pair will be sworn into office on Monday, April 7. To learn more about their platform, visit their website at IMforOU.com.
Applications are being accepted through Sunday, April 13 for 10 executive board positions. Positions range from marketing to multicultural affairs. Apply at oakland.edu/eboardapp.
Additionally, the OUSC announced the new legislators for the 2014-2015 year. They are Nathan Catey, Jeffrey Cox, Victoria Franso, Brittany Hall, Brandon Hanna, Cassandra Hock, Kyler Johnson, Madison Kubinski, Matthew Light, Josh Pokrefsky, Jeffrey Schuett, Ellen Searle, Andre Sykes, Laina Townsend, Nick Walter, Kristie Nixon and Jorge Garcia.
For more information on the OUSC, call (248) 370-4290 or e-mail ousc@oakland.edu. To learn more about student issues, programs or getting involved, view the website at oakland.edu/ousc.
Annie Meinberg and Liz Iwanski will focus on student life, academics and sustainability in their 2014-2015 term as student body president and VP.

Created by Colleen Campbell (cjcampbell@oakland.edu) on Wednesday, April 2, 2014
Modified by Kathleen Buchanan (kabuchan@oakland.edu) on Wednesday, April 2, 2014
Article Start Date: Wednesday, April 2, 2014