Wednesday, April 2, 2014
Mark B. Gordon named Chief of Oakland University Police Department
After conducting a national search, Captain Mark B. Gordon has been selected to become the
Oakland University Police Department's
next Chief of Police.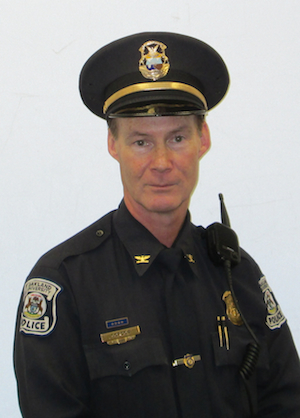 Mark B. Gordon, Chief of Oakland University Police Department
Gordon has served the Oakland University community for more than 26 years and established a track record of success in campus law enforcement.
"It's with great pride and humble appreciation that I take on the role as Chief of Police at Oakland University," says Gordon. "It has been a wonderful experience for me to be able to grow personally and professionally during my career at Oakland."
Working closely with students, faculty and staff, Gordon has gained extensive experience overseeing crime prevention programs, emergency management exercises, police training, law enforcement technology, records and data collection, grant applications, dispatch operations, student cadet programs, traffic and crowd control, parking enforcement, labor negotiations, and more.
Most notably, Gordon played a central role in coordinating security for two campus visits by President George W. Bush, and visits by Mexican President Vicente Fox and presidential nominee Sen. John McCain.
Gordon holds both a bachelor's and a master's degree in business administration from Baker College, an elementary education teaching certificate from Oakland University and an associate degree in criminal justice from Oakland Community College. Additionally, he completed the School of Police Staff and Command program at Eastern Michigan University.
"Given Mark Gordon's broad expertise, diverse experience and deep dedication to the university, I am confident that the OUPD and public safety on campus is in very capable hands," said John W. Beaghan, vice president for Finance and Administration and treasurer to the Board of Trustees at Oakland University.
Gordon replaces Chief Samuel Lucido, who retired from the position March 31 after 11 years with the OUPD.
Gordon replaces Chief Samuel Lucido, who retired from the position March 31 after 11 years with the OUPD.

Created by Colleen Campbell (cjcampbell@oakland.edu) on Wednesday, April 2, 2014
Modified by David Groves (groves@oakland.edu) on Thursday, April 3, 2014
Article Start Date: Wednesday, April 2, 2014