Wednesday, April 2, 2014
Accelerated Second Degree moves to Macomb County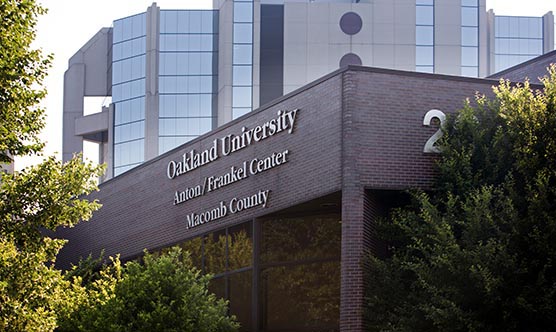 The Anton/Frankel Center provides an opportunity for these students to earn a quality OU education in the heart of Macomb County.
Oakland's Accelerated Second Degree in Nursing track is getting a new home. This spring, students in the 12-month accelerated program will move into the Anton/Frankel Center in downtown Mount Clemens, located at 20 S Main Street.
The Center provides an opportunity for these students to earn a quality OU education in the heart of Macomb County, which currently does not have its own public university. The Anton/Frankel Center features state of the art classroom technology, as well as free Wi-Fi for students' convenience.
Julie Trube, interim executive director for Oakland University-Macomb, is excited about the move.
"We look forward to welcoming the accelerated second degree students to the Anton/Frankel Center this summer," said Trube. "That program is a wonderful complement to the programs currently offered in Macomb County which range from marketing, psychology, social work, criminal justice, human resource development, communication, education and much more."
The Accelerated Second Degree track features a one-year curriculum that builds upon previous experiences and education of students who have already earned a bachelor's degree in another area while transitioning them into a Bachelor of Science in Nursing.
Gary Moore, associate dean of the School of Nursing, believes the move to the Macomb expands opportunity for individuals to enter the profession in a time of growing demand. With new healthcare reform and more people having access to healthcare, the need for nurses is great. The Bureau of Labor Statistics projects the need for more than 580,000 new and replacement RNs nationally by 2018.
"Having the Macomb County location for our Accelerated Second Degree students provides them with a university experience on a beautiful campus," said Dr. Moore. "The space allows more students to participate in the nursing program, with all of their classes in Mount Clemens. The students will practice their technical skills in the Simulation Labs at the Oakland University campus."
More than one-third of Oakland's students come from Macomb County, approximately 2,000 are enrolled at one of OU's three Macomb County locations and more than 20,000 OU alumni live in Macomb County. The decision to house the Accelerated Second Degree Nursing track in Macomb County provides residents of Macomb an opportunity to earn their OU degree close to where they live and work.
To learn more about Oakland University programs in Macomb County, visit oakland.edu/macomb or call (855) 222-6909.
Related Links:
This spring, students in the 12-month accelerated program will move into the Anton/Frankel Center in downtown Mount Clemens.

Created by Colleen Campbell (cjcampbell@oakland.edu) on Wednesday, April 2, 2014
Modified by Eric Reikowski (esreikow@oakland.edu) on Monday, June 9, 2014
Article Start Date: Wednesday, April 2, 2014