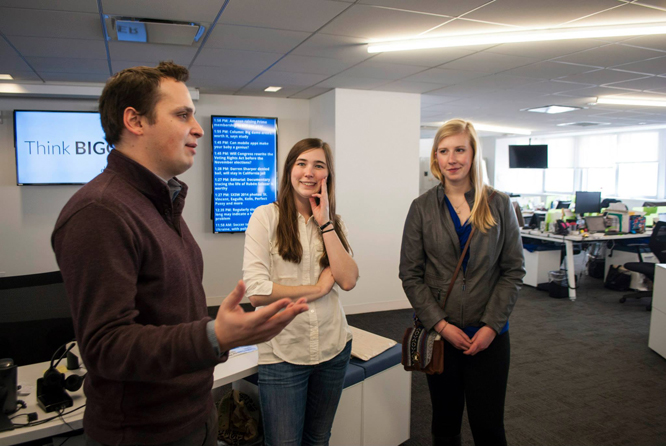 Journalism grad and former sports editor of The Oakland Post, Ross Maghielse, tells Kaylee Kean (journalism) and Oona Goodin-Smith about thinking big at Digital First.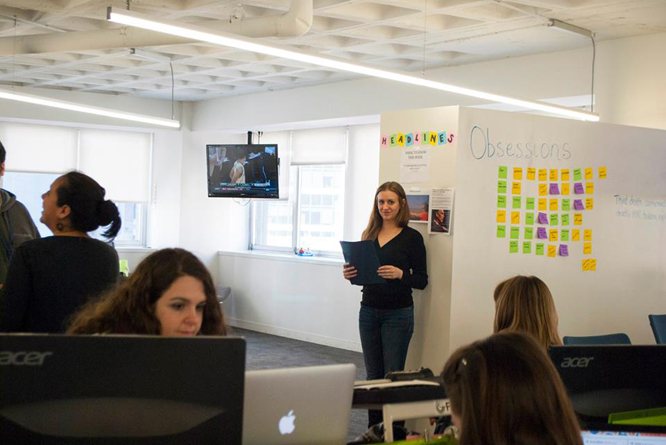 Journalism grad Karen Workman is happily transplanted to Manhattan, where she works, and Brooklyn, where she lives.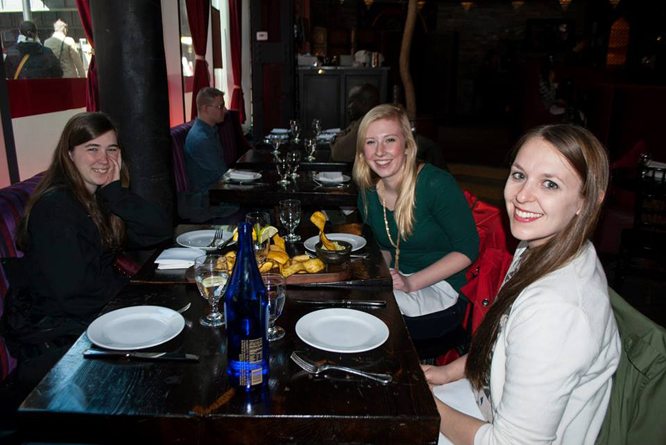 OU journalism alum and former Oakland Post EIC, Lindsey Wojcik, talked shop and beyond over lunch. Lindsey has lived in New York for five years and is an editor for a business-to-business publication for pet store owners.

By Colleen Campbell, Digital PR Manager
The incoming editors for Oakland University's independent student newspaper spent a weekend in the Big Apple attending a national convention for college media and networking with successful alumni.
Holly Gilbert, faculty adviser for The Oakland Post, traveled to New York City with communication major and journalism minor Oona Goodin-Smith and journalism major Kaylee Kean.
"We usually don't go (to the spring conference), but figured let's hire the next editor early and get them excited," Gilbert said.
The trio went to Digital First Media to meet with sports producer and multimedia journalist Ross Maghliese (CAS '11) and breaking news producer Karen Workman (CAS '07). Maghielse was sports editor for The Post while at OU and Workman worked her way through college at The Oakland Press.
"We learned so much and we got to see so much real life experience too," said Goodin-Smith. "We got to see what alumni are doing in the real, professional world."
They also spent the day with Lindsey Wojcik (CAS '09), an associate editor for a business-to-business publication. A former editor-in-chief of The Oakland Post, Wojcik talked about how her experience at OU helped her achieve her goals.
"I told them that I would not be where I am now without The Oakland Post," Wojcik said. "I think it opened a lot of doors for me after college, and it taught me more about myself and my career path than I imagined it would at the time."
Wojcik said she gave them advice for their journey as the top two editorial board members at The Post. "I told them they would have some hard production cycles but it would all be worth it in the end," she said. "Stay the course and it will pay off."
While in New York, Goodin-Smith and Kean also went on media tours at The Wall Street Journal and CNN.
The whole experience reaffirmed that journalism is not a dying profession, just a changing one.
"A lot of people say that journalism is dying. You hear discouraging messages about our profession," Goodin-Smith said. But seeing the alumni in their element dispelled that misconception. "It was cool because we got to see former editors in chief doing big things in the real world."
Goodin-Smith and Kean are currently both in the managing editor role at The Oakland Post, but will split off as Goodin-Smith steps into the editor-in-chief position for the 2014-2015 academic year.
Related Links:
A weekend of JRN in NYC — Oona Goodin-Smith and Kaylee Kean tour media outlets, network with successful alumni in the field, and attend a national conference.

Created by Colleen Campbell (cjcampbell@oakland.edu) on Monday, March 17, 2014
Modified by Colleen Campbell (cjcampbell@oakland.edu) on Thursday, April 3, 2014
Article Start Date: Monday, March 17, 2014