Thursday, March 13, 2014
Meadow Brook Theatre performance to benefit OU's Center for Autism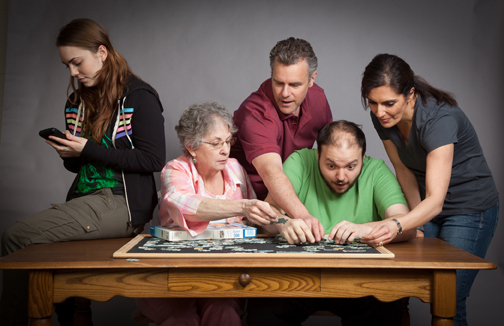 From left: Lizzie Rainville, Carolyn Gillespie, Chris Hietikko, Daniel Everidge, and Sarab Kamoo in "Falling" at Meadow Brook Theatre.
Meadow Brook Theatre partners with
Oakland University's Center for Autism
(OUCARES) on Saturday, March 22 for an evening dedicated to raising money for autism services.
Meadow Brook Theatre
will present the play "Falling" by Deanna Jent. "Falling" explores the dynamic and complicated reality of a family with an autistic young man. When a relative comes to visit, the entire family is thrown out of equilibrium, with everyone trying to balance what is best for them. The play bravely speaks the truth about love and family, and about hopes and dreams. The work is based partly on the experiences of playwright Jent, who will join OUCARES ticket holders for an open discussion following the fundraising performance.
Autism is a neurological disorder that affects the brain's functioning. It is a lifelong condition that has no known cure. It is not a mental illness but rather a spectrum disorder, which means symptoms and characteristics appear in a wide variety of combinations ranging from mild to severe.
Autism statistics from the U.S. Centers for Disease Control and Prevention identify around 1 in 88 American children as on the autism spectrum — a tenfold increase in prevalence over the last 40 years. The rise in prevalence has dramatically increased the demand for services that OUCARES offers the autism community.
With the funds raised through this special partnership with Meadow Brook Theatre, OUCARES will be able to continue to offer programs that help to improve quality of life for someone that is on the autism spectrum.
"Partnering with other nonprofit organizations gives us a chance to give back to the community around us. This is a great opportunity to make a difference by supporting the works of another organization, especially one who shares our home right here on the campus of Oakland University," said Cheryl Marshall, Meadow Brook Theatre's managing director.
"We are hoping for a great turnout for this and every performance of 'Falling.'"
Each OUCARES ticket of $50 will reserve a seat at Saturday's opening night performance, while also making a generous donation to help OUCARES continue its work providing autism support services.
"We are thankful that Meadow Brook Theatre is raising autism awareness by presenting 'Falling,' and grateful to them for giving us this opportunity to help raise funds for the many OUCARES programs that we provided for individuals with ASD and their families," said Kathy Sweeny, OUCARES director. "As a nonprofit organization, without this kind of generous support we would not be able to do what we are able to do."
OUCARES "Falling" performance and discussion fundraiser is 6 p.m. on Saturday, March 22. Tickets are available at
www.oakland.edu/oucaresstore
. Regular performances of "Falling" are March 19 through April 13. Individual tickets are $25-$41 and available by calling (248) 377-3300 or at Ticketmaster.com.
"Falling" explores the dynamic and complicated reality of a family with an autistic young man.

Created by Colleen Campbell (cjcampbell@oakland.edu) on Thursday, March 13, 2014
Modified by Brian Bierley (bierley@oakland.edu) on Friday, March 14, 2014
Article Start Date: Thursday, March 13, 2014