Tuesday, March 11, 2014
Students gain insight on state government at OU Day at the Capitol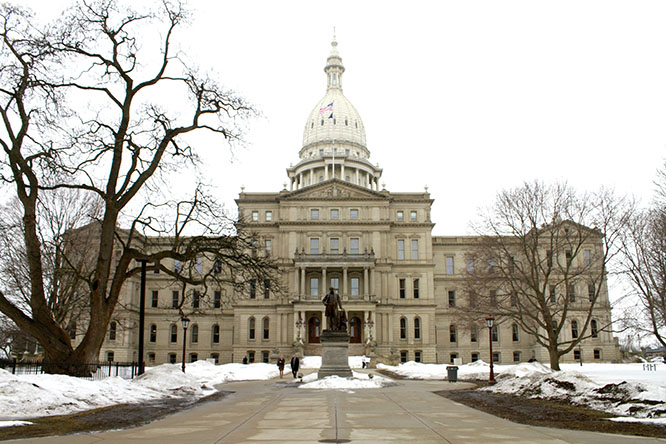 By Kelli M. Titus
Oakland University students, faculty and staff experienced the inner workings of state government at the 17th annual OU Day at the Capitol on Tuesday.
A communication senior at Oakland University, Michelle Alwardt, is also the director of OUSC Legislative Affairs and has assisted in the planning of OU Day at the Capitol for two years. She finds the event beneficial for students in gaining a better understanding of how the government works.
"The state government plays such a huge part in the higher education process," Alwardt said. "I don't think students always see that connection."
Participants listened to a panel and remarks by several OU alumni, including Secretary of State Ruth Johnson, OU Interim President Dr. Betty Youngblood and attorney Adam Kochenderfer.
"Do not pass up the opportunities that are in front of you right here and now," said Kochenderfer, who graduated from Oakland University in 2002 and was once a participant of OU Day at the Capitol.
Students also toured the state capitol, Michigan Supreme Court Learning Center and Michigan Historical Center. Additionally, students observed the State Senate and House in session.
OU Day at the Capitol is sponsored by the OU Office of Government Relations, Oakland University Student Congress and Project Upward Bound. For more information, contact the Government Relations office at (248) 370-3682.
| | |
| --- | --- |
| Political science students Megan Hoberg and Priscilla Pelle pose with The Grizz inside the Lansing Capitol Building. | Left to right: Glenn McIntosh, Sue Helderop, Derek Dickow, Rochelle Black, Brandon Hanna |
| A prestigious panel of OU alumni, left to right: Adam Kochenderfer, Tori Rexford, Dave Doyle, Janelle Arbuckle, Derek Dickow | Participants of OU at the Capitol make their way to the Speaker's Library at the Michigan Capitol Building. |
Students heard from a panel of alumni, toured building and observed the State Senate and House in session.

Created by Colleen Campbell (cjcampbell@oakland.edu) on Tuesday, March 11, 2014
Modified by Colleen Campbell (cjcampbell@oakland.edu) on Wednesday, March 12, 2014
Article Start Date: Tuesday, March 11, 2014