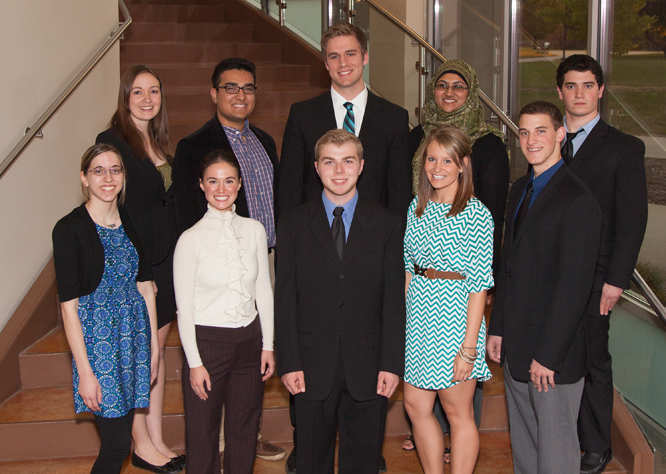 Students in the Leadership OU program partner up with young alumni mentors to learn the principles of leadership and career development. Applications are now open for the next round of the program, which begins in fall 2014.
Last fall, Oakland University's Office of Alumni Engagement launched a new program to give a select group of junior and senior students a first-hand look at leadership in action. Dubbed
Leadership OU
, the initiative exposed 10 students to principles of leadership and career development through a series of monthly presentations and by pairing them with young alumni mentors.
One presentation, held at the Stephan Sharf Clubhouse on OU's campus, illustrated the concept of leadership through a car metaphor.
"It helped us become aware of the difference between a 'driver,' one who makes things happen, and a 'passenger,' one who watches things happen," said Vincent Jarbo, a senior accounting major and aspiring entrepreneur. "Professionals gave us their approach on what skills we should work on to become successful as we progress through life."
Leadership OU speakers included George Jackson, CEO of Detroit Economic Growth Corporation; and Sheri Heiney, executive director of the Rochester Chamber of Commerce; Bryan Barnett, SBA '98, mayor of Rochester Hills; Razzaaq McConner, SBA '01, executive business planner for Chrysler Corporation; and David McGhee, CAS '05, congressional liaison for U.S. Rep. Dan Kildee.
Alumni mentors came from a broad range of fields and offered insights into making a successful transition from student to professional. Shalonda Dennis, a 2007 OU graduate, shared her experiences as an employee of the Michigan Department of Human Services. She says that young alumni mentors bring fresh perspectives that can benefit new graduates.
"To have someone who is just a few steps ahead of you on a certain path is just as beneficial as someone further down the same path," she said. "There are always new innovations, techniques or obstacles that a recent grad may be able to relate to that a seasoned professional may not have experienced."
Dennis' mentee, Taylor Eberhart, said Leadership OU has given her more confidence with networking and provided inspiration for her future. This summer, Eberhart plans to study abroad through OU's social work program and eventually hopes to go into the Peace Corps.
"The Alumni Association really works hard to put together events that teach us more about transitioning into the 'real world,'" she said. "The events teach us about professionalism, networking, and so much more about life after graduation. I have had the opportunity to meet with alumni who are showing me that all my hard work is worth it."
Another edition of Leadership OU is planned for fall. A total of 10 students will be selected to participate, and each will receive a $250 tuition stipend after successfully completing the program. Students who have achieved junior or senior status with a minimum cumulative GPA of 3.0 and have demonstrated student leadership and campus involvement are eligible to apply. Participants must remain in good academic standing throughout the program.
Students can apply online at www.oualumni.com/leadershipOU. Applications are due by 5 p.m. on Friday, April 18, 2014. For additional information, contact Maria Willett at (248) 364-6121 or mjwillett@oakland.edu.
Leadership OU provides leadership, mentoring, and networking opportunities for junior and senior level students.

Created by Colleen Campbell (cjcampbell@oakland.edu) on Tuesday, March 4, 2014
Modified by Colleen Campbell (cjcampbell@oakland.edu) on Tuesday, March 11, 2014
Article Start Date: Tuesday, March 4, 2014