"Life changing." That's how Jim Deakin, MIS '87, MBA '13, describes the trip to Europe he took as part of an Oakland University international business course last spring. "There's no way to teach someone the experiences we had."
Deakin was among a group of undergraduate and graduate business students who visited the Czech Republic, France, Germany and Poland with Joy Jiang, assistant professor, international business, and Frank Cardimen, special instructor.
"It's so critically important for students to be exposed to other cultures," says Jiang. "Many of our students come to Oakland University from within a 60-mile radius. They were born here and grew up here. Even if they never work outside of Oakland County, they will work with people from China or England or somewhere else in the world. The sooner they have international exposure, the better."
Gaining global perspectives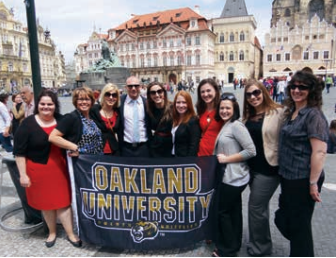 Doing business with other countries is different than doing business in the United States, and it requires a different mindset, Cardimen emphasizes.
"It's a difference of culture, language, currency, history, geography. It's a difference you can't teach through books," he adds. "You have to feel it. You have to see it. You have to hear it through other people. You have to experience the culture and learn about the history."
The trips made available to Oakland's business students expose them to these differences and give them the experiences and insights they'll need to thrive in today's increasingly global business environment.
Intentional tourists
Every stop the students made during their travels was designed to illustrate a different nuance of international business and culture.
The Europe trip included visits with European companies and government agencies, as well as U.S. companies that operate abroad. Organizations included Cisco Systems, Eli Lilly & Co., Institut Pasteur, Kelly Services, Fauercia, GE's European research center, United Airlines and more. Students also met with business and government leaders.
"We were exposed to the subtleties of the different plants, how they operated," Deakin says. "We were also exposed culturally and socially."
Despite the varying perspectives and business approaches she observed, senior operations management major, Paula Tomkiel discovered the business leaders she encountered abroad shared a number of common priorities with those in the U.S.
"The international leaders we met talked about many of the same things we discuss in class at Oakland University, such as lean operations and efficiency," she says. "I was very impressed with how forward and innovative the companies were."
Tomkiel knows the international experiences she and her fellow SBA students shared will give them a distinct advantage in the job market.
"Thanks to this trip, I'm confident I'm better prepared to launch a career in operations management," Tomkiel says. "Experience overseas is critical to being a global leader."
"The experience opens eyes," says Cardimen. "The students gain valuable knowledge, which can translate into job opportunities."
Valuable investment
As beneficial as international travel is, there is a significant financial investment required, which can put it out of reach for Oakland students who juggle work and school commitments.
Contributions from a small group of local business professionals have helped offset the cost of trips for students over the years. These supporters understand the value of international travel for business students and want to help make it affordable.
The students appreciate the assistance.
"It helped a lot with the costs for hotels and plane tickets," Tomkiel says. "What I spent was 100 percent worth it. It will help me meet the demands of global industry. It gave me the ability to function in a multicultural setting."
Deakin, who also traveled to China with Jiang in 2012, feels the same way.
"I can't imagine a better use of my time or money," he says. "Wherever I work, there will be international interactions. Now, I'll have a better idea of who the people are and how the businesses function."
By Flori Meeks
"It's so critically important for students to be exposed to other cultures," says Jiang, assistant professor, international business. "Many of our students come to Oakland University from within a 60-mile radius. They were born here and grew up here. Even if they never work outside of Oakland County, they will work with people from China or England or somewhere else in the world. The sooner they have international exposure, the better."

Created by Ann Beran (amberan@oakland.edu) on Thursday, February 27, 2014
Modified by Ann Beran (amberan@oakland.edu) on Thursday, February 27, 2014
Article Start Date: Thursday, February 27, 2014