Wednesday, February 26, 2014
AUFD raises $363,225 during 2013 campaign
Members of the Oakland University community funded their passion in a big way for the 2013 All-University Fund Drive.
A total of 667 faculty, staff and retirees contributed $363,225, exceeding the campaign's goal and more than doubling the amount raised a decade ago. The School of Education and Human Services, College of Arts and Sciences, the Honors College, Oakland University William Beaumont School of Medicine and Risk Management saw the largest increases compared to previous years. In all, 219 funds were supported.
Gifts made between Oct. 8 and Dec. 31 were matched by the president at 50% up to a $2,500 match. Six donors qualified for the larger planned giving match of $5,000 to their designated funds by making an IRA charitable distribution or a bequest to the university. The total matching funds of $156,625 raised the total immediate impact of the AUFD to $519,850. Another $40,000 will someday benefit the university through bequests made by employees.
"The All-University Fund Drive is a great way for employees to show how much they care about their favorite programs and get additional funds from the president for those programs, too," said Kelly Brault, director of annual giving. "The best part is that President Youngblood is offering the larger planned giving match year-round, which means that employees and retirees can set up a charitable gift annuity or a bequest and see the match applied to their favorite funds this year."
Representing commitment at all levels of the university, this year's AUFD co-chairs were Graeme Harper, dean of the Honors College; George Preisinger, assistant vice president for classroom support and instructional technical services; Laila Guessous, associate professor of mechanical engineering; and Mary Carey, accounting clerk, Student Business Services. The retiree co-chairs are Pat Nicosia, former director of Budget and Financial Planning and Judy Brown, distinguished professor emerita of Anthropology.
To learn more about the AUFD, visit the website at oakland.edu/AUFD, or contact Annual Giving at (248) 364-6160 or giving@oakland.edu. For more information on gifts that give back, like charitable gift annuities, or standard bequests, contact Planned Giving at (248) 364-6129 or giftplan@oakland.edu.
[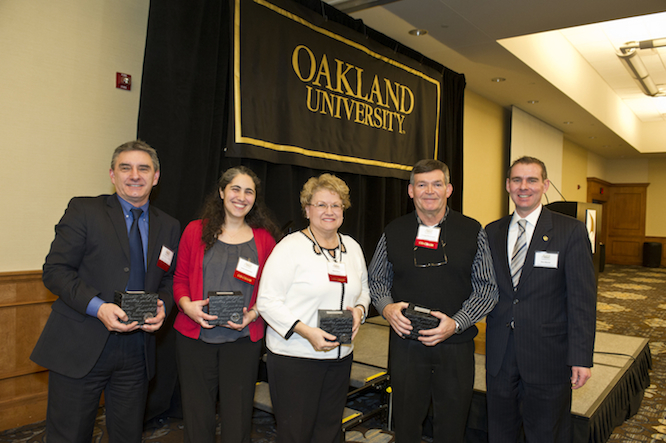 From left, AUFD co-chairs Graeme Harper, Leila Guessous, Mary Carey, George Preisinger with VP, Development, Alumni and Community Engagement Eric Barritt
Faculty, staff and retirees funded their passion in a big way during the 2013 All-University Fund Drive.

Created by Brian Bierley (bierley@oakland.edu) on Wednesday, February 26, 2014
Modified by Colleen Campbell (cjcampbell@oakland.edu) on Monday, March 3, 2014
Article Start Date: Wednesday, February 26, 2014