Thursday, February 13, 2014
OU represents on Oakland County's Elite 40 Under 40 list
Eric Barritt, vice president of Development, Alumni and Community Engagement at OU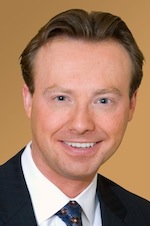 Adam Kochenderfer, OU grad and Alumni Association board member
Several professionals with
Oakland University
ties have been named to the Oakland County Executive's
Elite 40 Under 40 Class of 2014
. Eric Barritt, OU's vice president of Development, Alumni and Community Engagement, and alumnus Adam Kochenderfer, attorney for Wolfson Bolton PLLC, are among leaders being recognized for outstanding career achievements and community contributions.
Since joining OU in 2011, Barritt has overseen all of Oakland's
fundraising
, alumni and community outreach efforts. He serves as executive director of the OU Foundation, a member of the President's Cabinet and leads a staff that includes 75 full-time employees.
During his tenure, Oakland's annual cash from philanthropy has doubled, pledges have tripled and the number of new gifts has increased 40 percent. OU closed four of the largest gifts in its history under Barritt, who also serves as president of the
Northville Educational Foundation
and on the Board of Directors for the Pontiac Promise Zone.
"I'm truly honored to be recognized among so many talented professionals whose work impacts countless lives," Barritt said. "It also brings me great pleasure to work with a dedicated team that serves the interests of Oakland University students, faculty and staff, and enriches the surrounding community. Our collective efforts help make OU a first-rate institution and maintain Oakland County as a great place to live and work."
Kochenderfer, a 2002 OU graduate, honed his leadership skills while serving as Student Body President and Student Liaison to the Board of Trustees. He earned bachelor's degrees in English and political science and won the Alfred G. Wilson Award, given annually to OU's top male undergraduate. He later graduated from University of Michigan Law School.
"Oakland University gave me the tools, experiences and role models necessary to build my career and serve my community," Kochenderfer said. "During my four years there, I was surrounded by people who showed me what it means to be part of something larger than yourself. That emphasis on collaboration serves students well long after graduation."
Along with his legal career as a partner at
Wolfson Bolton PLLC
, Kochenderfer is a councilman for the City of Rochester Hills and serves on the
Oakland University Alumni Association Board of Directors
. He also established the
Kochenderfer Endowed Scholarship Fund
, which awards an annual scholarship to a student majoring in political science, public administration or international relations.
Additionally, this year's 40 Under 40 class includes several others with OU ties. They are:
Chris Barnett, township supervisor, Charter Township of Orion
Christina Del Pizzo, second grade teacher, Detroit Country Day School
Bryan K. Kieler, VP community development lending portfolio manager senior, Huntington Bank
Josh Kozlowski, English teacher, International Technology Academy
Jennifer Llewellyn, director, Oakland County Michigan Works Troy
Launched in 2012, the Elite 40 Under 40 list recognizes professional and executive leaders who have made a positive difference in their field and community.
Several professionals with Oakland University ties have been named to the Oakland County Executive's Elite 40 Under 40 Class of 2014. Eric Barritt, OU's vice president of Development, Alumni and Community Engagement, and alumnus Adam Kochenderfer, attorney for Wolfson Bolton PLLC, are among leaders being recognized for outstanding career achievements and community contributions.

Created by Colleen Campbell (cjcampbell@oakland.edu) on Thursday, February 13, 2014
Modified by Colleen Campbell (cjcampbell@oakland.edu) on Thursday, February 13, 2014
Article Start Date: Thursday, February 13, 2014