Thursday, February 13, 2014
OU mourns the loss of fun-loving, outgoing freshman
Wednesday, February 12, 2014
OU mourns the loss of fun-loving, outgoing freshman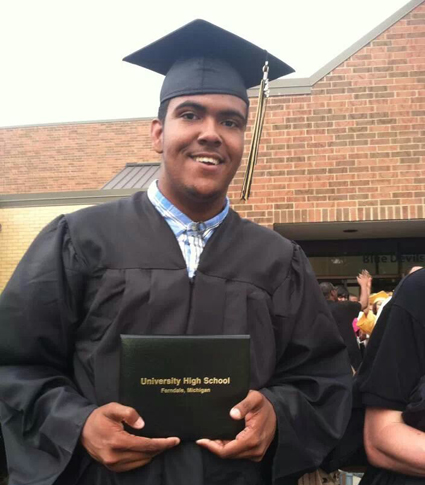 DeMal Coleman, 18, was a fun-loving and outgoing freshman at Oakland University.
The Oakland University community is mourning the loss of an 18-year-old freshman, who passed away at his home in Ferndale on Monday, Feb. 10, as a result of cardiac arrest.
DeMal Coleman was a resident in Hamlin Hall and a participant in OU's CORE program – Collectively Oakland Retains Everyone. Administered through the university's Center for Multicultural Initiatives (CMI), the program aims to help first-year students make a successful transition to college.
CMI Director Omar Brown-El described Coleman as a "fun-loving, outgoing young man…someone who always greeted you with a smile."
This past year, Coleman took part in the CORE Summer Bridge program, a weeklong initiative designed to acclimate students to campus life through a variety of social and academic activities. According to Brown-El, the experience helped Coleman and other students gain insight into the college experience and form lasting friendships. He added that Coleman's enthusiastic presence "made the experience worthwhile" for other participants.
Graham Counseling Center
staff members are available to provide counseling services to any members of the university community finding this news difficult to manage.
A visitation will take place on Monday, Feb. 17, from 4-9 p.m. at the James H. Cole Home for Funerals, located at 16100 Schaefer Hwy., Detroit, Mich. A funeral service will follow on Tuesday, Feb. 18 at 1:30 p.m. at the funeral home.


Created by Angelica Proffett (proffett@oakland.edu) on Thursday, February 13, 2014
Modified by Angelica Proffett (proffett@oakland.edu) on Thursday, February 13, 2014
Article Start Date: Thursday, February 13, 2014