Monday, February 10, 2014
Olympic athletes take OU dance lessons to Sochi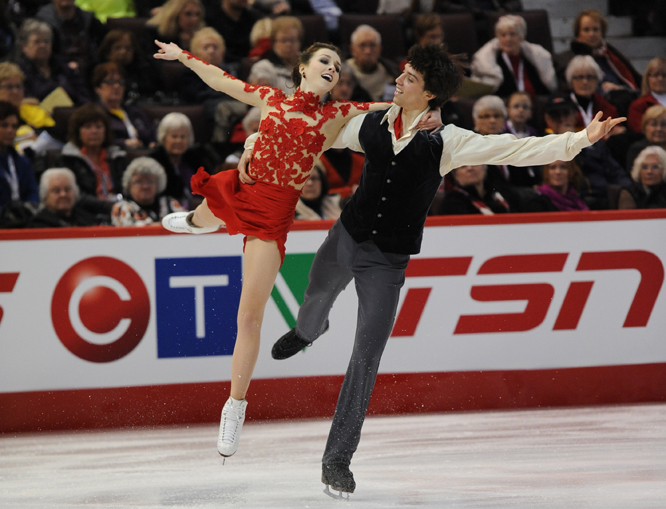 Alexandra Paul and Mitchell Islam will compete in the ice dancing category for Team Canada.
By Eric Reikowski, public information specialist

As the world watches the 2014 Winter Olympics, two instructors in Oakland University's Dance program have their eyes on a diverse bunch of figure skating hopefuls. Christina Tasco and Stephanie Pizzo have spent the past two years helping nine athletes from around the globe pursue their Olympic dreams.
Jeremy Abbott (USA) and Valentina Marchei (Italy) are singles competitors, while Narumi Takahashi (Japan) is a pairs skater. Kaitlyn Weaver and Andrew Poje (Canada), Danielle O'Brien and Greg Merriman (Australia), and Alexandra Paul and Mitchell Islam (Canada) will compete in the ice dancing category. Along with their skating exploits,
Paul and Islam are students in OU's political science program
.
Tasco and Pizzo have spent many hours at the Detroit Skating Club teaching off-ice dance classes and helping with on-ice routines. Tasco sees many parallels between teaching students at OU and training world-class athletes.
"Similar to working with the students at the university, I believe that my job is to do my best every day to get the most out of each student," she explained. "They, in the end, have to put the work in to get where they want to be in either the dance or skating world, but most students need someone to guide them and show them what they are capable of achieving. That is the mission for my teaching - to give every student I work with proper information to not only know their field, but also catch a glimpse of a vision."
The 2014 Winter Olympics run through Sunday, Feb. 23 in Sochi, Russia. For more on the OU Dance program, visit the website at
oakland.edu/dance
.
Watch the skaters
Ice dancing: Feb. 16-17 - Kaitlyn Weaver and Andrew Poje (Canada), Danielle O'Brien and Greg Merriman (Australia), and Alexandra Paul and Mitchell Islam (Canada)
Pairs: Feb. 11-12 - Narumi Takahashi (Japan)
Men's singles: Feb. 13-14 Jeremy Abbott (USA)
Women's singles: Feb. 19-20 Valentina Marchei (Italy)
Two of OU's Dance instructors spent hours at the Detroit Skating Club teaching off-ice dance classes to Olympic ice skaters.

Created by Colleen Campbell (cjcampbell@oakland.edu) on Monday, February 10, 2014
Modified by Colleen Campbell (cjcampbell@oakland.edu) on Thursday, February 13, 2014
Article Start Date: Monday, February 10, 2014