Friday, January 17, 2014
University Drive closed over I-75, alternate route advised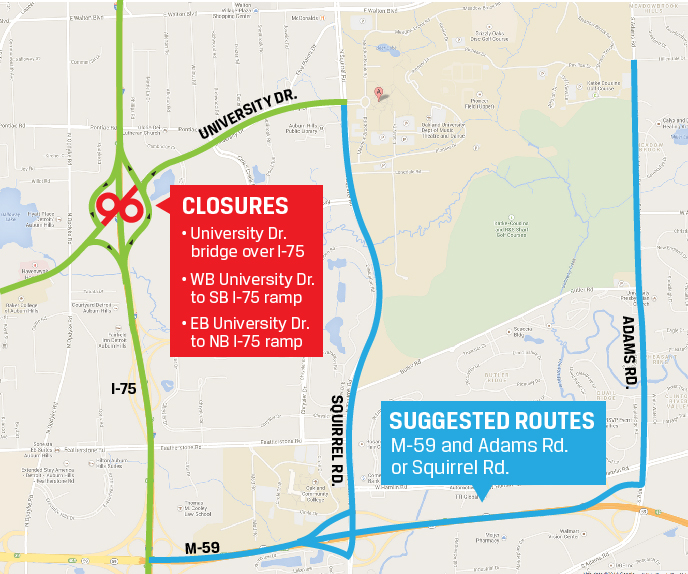 Suggested alternate route: Exit I-75 at M-59 and take either Squirrel or Adams road north to a campus entrance.
Oakland University students, faculty and staff are advised to seek alternate routes entering and exiting campus via University Drive.
The university just received notification from the Michigan Department of Transportation that University Drive at I-75 will be closed beginning today, Jan. 17 at 4:00 p.m. for roadwork. The repair work is expected to take approximately one week.
Associated closures:
WB University loop ramp to SB I-75
EB University loop ramp to NB I-75
I-75 exit ramps to University will be restricted to only through movement or right turns onto University Drive
Additional traffic restrictions may be necessary between Opdyke Road and Cross Creek Parkway
MDOT bridge inspectors have discovered a critical condition with the beams on the bridge that carries University Drive over I-75 and have determined that it is necessary to close University Drive over the freeway to traffic until temporary supports can be installed.
MDOT officials estimate the roadwork will take approximately one week to complete.

Created by Colleen Campbell (cjcampbell@oakland.edu) on Friday, January 17, 2014
Modified by Colleen Campbell (cjcampbell@oakland.edu) on Friday, January 17, 2014
Article Start Date: Friday, January 17, 2014