Tuesday, January 14, 2014
OU's SAE chapter race cars to go on display at NAIAS
By Eric Reikowski, public information specialist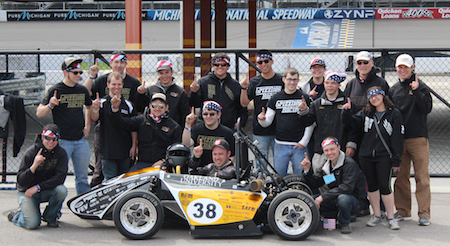 Members of the 2013 Grizzlies Racing team celebrate their formula style race car experience at Michigan International Speedway
For the fourth year in a row, the Oakland University Society of Automotive Engineers (SAE) student chapter will display vehicles at the North American International Auto Show. The group's 2012 and 2013 formula style race cars will be showcased alongside some of the world's finest automobiles Friday, Jan. 17 through Sunday, Jan. 26 at Cobo Center in Detroit.
Designed and built by Oakland students, the OU cars compete in the Formula SAE Collegiate Design Series, in which students are tasked with designing and manufacturing a small formula-style race car for potential sale to the non-professional weekend autocross racer. Each student team designs, builds and tests their prototype against student teams from around the world.
"Formula SAE takes students beyond the classroom and allows them to apply textbook theories to real work experiences, in an extremely competitive, business-like environment" said Dr. Brian Sangeorzan, professor of mechanical engineering and faculty advisor to the OU SAE student chapter.
Both vehicles have impressive track records. The 2012 car finished 13th in a field of 84 teams at a Formula SAE West competition in Lincoln, Nebraska, and also notched a pair of third place showings at competitions in Canada. The 2013 vehicle kept things rolling, coming in 23rd at Formula SAE Michigan, 14th at Formula SAE North in Canada – including a first place showing in the cost presentation – and 11th at Formula SAE West in Nebraska.
Overall, Oakland is ranked 36th out of more than 500 collegiate SAE chapters worldwide. The team also currently ranks ninth in the nation and second in the state.
Sindy Zaki, OU SAE president, says the team has gotten off to a strong start this season as current members have stepped up to maintain a tradition of excellence.
"We had a lot of senior members graduate last spring so we've tried to focus a little more on rebuilding a strong team, as well as still being a really competitive team. It's been amazing to watch so many of my peers come together to design and create a car while we all have so many other commitments and still manage to spend so much time out at our shop," Zaki said. "It's especially amazing to watch members who literally knew nothing a year ago become responsible for so much more and do a good job. We love spending time out at the garage, constantly learning and having a good time doing it."
Team members will staff the OU displays, which this year will be stationed in two locations: the basement of Cobo Center and on the main level as part of the DENSO North America exhibit. Through a $30,000 grant from the DENSO North America Foundation, students in Oakland University's Department of Mechanical Engineering recently gained access to new research tools and automotive testing equipment. The funds were particularly beneficial to OU's SAE student chapter, according to Dr. Sangeorzan.
"The equipment provided through this grant will enhance the infrastructure and environment for student training in the application of real automotive technologies to their vehicle designs, and will provide the OU student team with opportunities to be more innovative and competitive in this challenging international student design competition," Dr. Sangeorzan explained.
Oakland's SAE student chapter regularly participates in many events, including the Woodward Dream Cruise, Concours d'Elegance of America, Rockin' Rods in Rochester and the SAE World Congress at Cobo Center. The team is currently preparing its 2014 vehicle for an SAE event at Michigan International Speedway this spring.
To learn more about Oakland's SAE chapter, e-mail
ousae@oakland.edu
or visit the website at
http://grizzliesracing.com
.
The Society of Automotive Engineers (SAE) student chapter will display its 2012 and 2013 formula style race cars at the auto show this year.

Created by David Groves (groves@oakland.edu) on Tuesday, January 14, 2014
Modified by Colleen Campbell (cjcampbell@oakland.edu) on Friday, January 17, 2014
Article Start Date: Tuesday, January 14, 2014