Recently our voice students were privileged, not only to attend the Michigan Opera Theatre's production of
La Traviata
, but also to take part in a master class with soprano
Nicole Cabell
, who was in town to play Violetta.
Christine Divito
, a music education graduate student who attended the master class, said, "Ms. Cabell worked with some of our best singers and was able to help each one of them improve . . . She worked a lot on forward placement, which really helped me personally. She was also very kind and encouraging with each student and she gave incredible insights into her life as an opera singer, what is expected and how to prepare."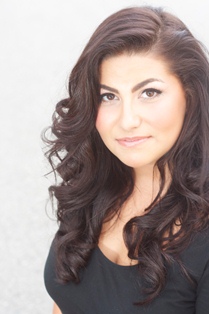 Nicolette Book,
who will graduate from the voice program this spring, is excited that she will have the opportunity to spend the summer with the Wolf Trap Opera Company in Vienna, Virginia. She has won a position in the highly competitive Wolf Trap Opera Studio, which means she will appear in small main stage roles. She hopes also to appear in a children's opera. Nikki said, "I'm so grateful to have been offered this experience and can't thank you all enough for your love and support!"
Wolf Trap sends representatives out on an audition roadtrip to hear aspiring new studio members and Nicolette auditioned at the Cincinnati Conservatory of Music, which is one of the schools she has applied to for graduate study. She loved the school and the voice teachers she met there, but will not know for sure where she will pursue her master's degree for some weeks yet. Last summer, Nicolette, who studies voice with
Dr. Edith Diggory
, was accepted to the Houston Grand Opera Young Artists Vocal Academy, and she believes she is the first OU student to be accepted to both of these summer programs.
Our instrumental students have also been out in the world demonstrating the excellence of our program. Associate Professor
Mark Stone
recently presented his research at the Percussive Arts Society International Convention in Indianapolis. The OU World Percussion Ensemble played as part of his presentation and Mark said, "They were awesome." You can see the
presentation on Professor Stone's website here.
Mark received a lot of great feedback from his colleagues. Here is just one of the comments: "One of the highlights . . . was a presentation of the Embaire music of Uganda by Mark Stone and his Oakland University students. Mark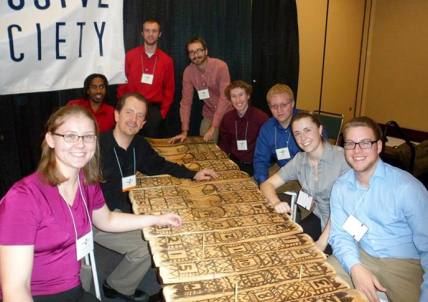 shared his deep knowledge of this little-known musical tradition with a spellbound audience of percussion performers, teachers, and students from across the country. In vivid detail, Mark presented his experience with the Nakibembe Xylophone Group of Uganda, the musicians who taught him about the embaire music, instrument, and performance traditions, and who Mark performed with during his year in Uganda. The PASIC audience heard this amazing music brought to life in stunning performances by Mark and the Oakland University students." Roger Braun, Professor of Percussion, Ohio University.
Congratulations to the theatre students cast and crew of November's production of Noël Coward's
Blithe Spirit.
It was the first time the program had challenged students with the verbose and subtle work of Coward. The faithful recreation of 1940s England was a smashing success and a great credit to designers and actors, not to mention the director, dialogue coach and the special effects team.
And just as the fall semester was winding down, the theatre program was delighted to hear that OU's production of
CARRIE the musical
, which had been such a hit in October, had been selected for performance at the regional festival of the American College Theatre Festival (ACTF) in Saginaw in January, providing a wonderful opportunity for our students to make an impression "on a bigger stage." The show was also performed at the Music Hall in downtown Detroit on January 5 as part of an anti-bullying awareness initiative, offered in partnership with the Anti-Defamation League's "No Place for Hate" and sponsored by the General Motors Foundation. The restaging of the show for the proscenium arch at the Music Hall was helpful to the production's presentation at ACTF, which was at the Temple Theatre in Saginaw on Saturday, January 11.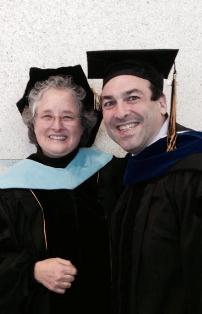 Here is one last piece of student news:
Dr. Daniel Abrahams
, who completed all the requirements for his Ph.D. in music education, officially graduated at the December commencement ceremony. And we have the photographic evidence to show you!
We have had some really exciting alumni news in the past few weeks. Thanks to Professor
John-Paul White
for passing along the news that
Alexandra Zorn
recently played Cosette in
Les Miserables
in Seattle.
Another Musical Theatre alum has started her own business closer to home and intriguingly, it seems designed to allow her to make her own dreams come true, while at the same time fulfilling young people's fantasies. When she graduated
Kryssy Becker
went to work at Disney World in Florida and it seems she is still starry eyed about that whole princess thing! Enchanted Tales Entertainment is "a character performer entertainment company," which will send a princess to your children's party or other event. In addition to Kryssy, current OU theatre students
Alexa Moffo
,
Chelsea McCulloch
and
Kim Alley
all moonlight as princesses and bring a little magic to the events they attend. You can read more about Enchanted Tales Entertainment
on their website here
.
And we have news of two of our spring 2013 musical theatre grads.
Jake Wood
has been cast in
Lysistrata Jones
at Meadow Brook Festival. The show will run from February 12 until March 9 but Jake expects to be back in Michigan for about three months starting in January. The Meadow Brook production will be the Michigan premiere of
Lysistrata Jones
, so get your tickets early. The current Meadow Brook production i
s Harris Cashes Out
, which features a current faculty member,
Mila Govich
, and an alumna,
Katie Hardy.
Information is here
.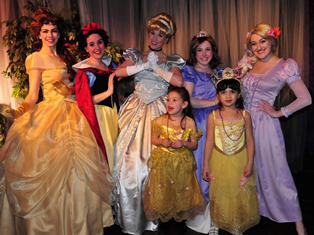 Meanwhile, in New York
Joey Feldmann
is scheduled to attend "Frankie bootcamp" this month. For the uninitiated, this means he will undergo four days of eight-hour training with the creative staff of
Jersey Boys
so he can be ready to play the role of Frankie Valli at a moment's notice. Joey wrote on his Facebook page, "I'll know the role and be ready if there is any opening when casting. It's a huge step." He encourages his friends to stay true to their goals. "Can't wait for this amazing opportunity to begin! No matter what, always work hard to achieve your dreams! The universe will find a way to help you find success!" We'll let you know when Joey gets the call.
In January 2012 we brought you the story of alumni
Bill and Amy (Smith) Petty
and their shared life in music. If you would like to reread that article
you can follow this link
. The couple have recently returned to the southeast Michigan area. Bill is the director of worship at Ward Church in Northville and Amy continues her singer-songwriter career. Recently, on her website, Amy posted a very eloquent answer to a question she says she is frequently asked. "Why don't you enter for The Voice?"
We thought that many of you might like to read her thoughts.
Quite a few people who already did found it very inspiring.
We also have some wonderful news to share from one of our most illustrious dance alumni, Professor
Rodney Brown
, who teaches dance and choreography at The Ohio State University. Rodney recently received two honors in a 24-hour period. Firstly, he was informed that a recent commission of choreography, Potters (Seed then wheats) for Moving Collective in Kentucky, was selected for performance at RADfest, The Midwest Regional Alternative Dance Festival, in Kalamazoo, Michigan.
Read more about Radfest here.
He was then delighted to hear that the University of Michigan School of Music, Theatre and Dance Alumni Society Board of Governors had selected him to receive the 2014 Emerging Artist Award in Dance. Rodney, who received the 2013 Alumni Achievement In Dance MaTilDa says, "It is good to be recognized in this way." We agree, and we look forward to hearing from him as more accolades come his way in the future.
You can read more about Rodney's recent work here.
Rodney completed an M.F.A. in dance at the University of Michigan after graduating from Oakland. The Emerging Artists page is awaiting update
but you can check it here.
And we want to bring you up-to-date on our faculty's latest achievements. Assistant Professor of Music
Miles Brown
is a member of the internationally renown ensemble Alarm Will Sound, which played on the Oakland campus in 2012. This year, the ensemble is in residence at the Metropolitan Museum of Art in New York. Describing Alarm Will Sound's ethos is not easy but this is how the Met did it on their website: "Alarm Will Sound [is] one of the most creative ensembles working today. Hailed by
New York Magazine
as 'the Seal Team Six of new music,' Alarm Will Sound creates unique and thrilling performance experiences. Just beyond the cutting edge of music, dance, and theater, this hugely respected and highly accomplished group of performer-composers turns its collective imagination for one year to the Met's permanent collection and galleries."
When they lived in New York, department chair
Jackie Wiggins
and her husband Bob frequently attended the performances of artists who held this highly prestigious residency. If you are on the East coast and would like to see Alarm Will Sound this season
check the Met's schedule here
. And read more about Alarm Will Sound and the residency in this
OU News Article
.
Assistant Professor of Music
Jeffrey Heisler
joined the OU faculty in September and dazzled Varner audiences with his saxophone performance in November. Later in the month he toured Florida, with his wife, pianist
I-Chen Yeh
. On November 22, Jeff gave a saxophone masterclass at the University of Central Florida, which was followed by a concert for saxophone and piano featuring works by Stulman, Sekhon, Biedenbender, Chen Yi, Lauba, and Bolcom. On November 24, the duo performed at the Central Florida Composer's Forum Concert in Orlando, where they gave world premiere performances by pieces by Orlando area composers: Thad Anderson, Justin White, Keith Lay, David James Nielsen, Scott Dickinson, Robby Elfman and Timothy Stulman.
You can read more about the duo here.
Professor Heisler and I-Chen Yeh will perform in Varner as a duo on March 10, when they will offer a
program of virtuosic contemporary music.
And the University Research Committee approved a Faculty Research Fellowship Grant for Professor Heisler, to permit him to record, produce and publish a CD of new music for saxophone with pianist I-Chen Yeh. He said, "This research fellowship will allow me to record repertoire for saxophone that I have commissioned, premiered, or arranged for this instrument." Among those works will be
Vermont Counterpoint
by Steve Reich;
Monologue: Impressions of the True Story
of Ah-Q by Chen Yi; B
rahma Viharas
by Timothy Stulman;
SPP
by Philippe Leroux (world premiere recording);
Gradient
by Baljinder Sekhon (world premiere recording); and
Images
by David Biedenbender.
Assistant Professor of Dance
Elizabeth Kattner
also received a research grant from the university.
Assistant Professors of Dance
Thayer Jonutz
and
Ali Woerner
received an invitation from the National Dance Education Organization to present a two-hour intensive at the NDEO Conference Chicago 2014. Professor Woerner said, "They received such strong feedback on our session this past October when we presented a 50- minute class at the NDEO Conference Miami that they have extended this offer to us. We could not be more excited and humbled by this news, especially since it is a result of our peers' feedback."
Your feedback is always welcome. Please send us your news. We would love to share it with your OU friends. Email us at
gellis@oakland.edu
Photos
Top right: Nicolette Book
Middle left: The OU World Percussion Ensemble with Mark Stone at the Percussive Arts Society International Convention
Middle right: Professor Jackie Wiggins and Dr. Daniel Abrahams
Lower right: The princesses of Enchanted Tales Entertainment