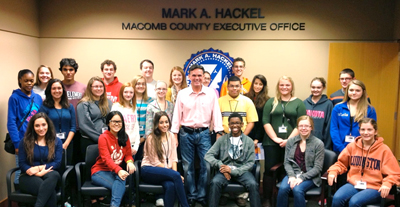 Macomb County Executive Mark Hackel stands with the Junior Leadership Macomb class.
By Rachel Zynel, contributing writer
Oakland University alumnus Karen Smith is developing future leaders in Macomb County.
Smith, who graduated with a degree in marketing in 1992, is executive director of Leadership Macomb, a 501c3 nonprofit that has been working to create informed leaders to help the community.
Founded in 1996, Leadership Macomb has taught more than 645 participants and has given out nearly 90 scholarships.
This year, Smith and Leadership Macomb sought to reach out to the youth of the community and began Junior Leadership Macomb.
"Our goal was to educate the students on as many of the issues and assets facing Macomb County as possible," said Smith.
"The curriculum included teaching the students about the importance of volunteering and being connected to the community in which they live."
With this goal in mind, Smith reached out to Oakland University's Julie Trube, interim executive director of Oakland University in Macomb County. Trube graduated from Leadership Macomb in 2008 and also serves as the education and workforce development day chair for the Leadership Macomb program.
"When we decided to pilot a Junior Leadership Macomb, Julie was the first person that came to mind because of her knowledge of the program and her expertise in education," Smith said.
Oakland University hosted two of the sessions at the Anton/Frankel Center in Mount Clemens and one at the Macomb-OU Incubator in Sterling Heights.
"Oakland University is committed to nurturing the college-going culture in Macomb County," Trube said. "Programs like this help us to further our goals of generating greater awareness of Oakland University's presence in and commitment to Macomb County."
Oakland University offers 25 degree programs in Macomb County and a variety of career exploration camps and college readiness workshops to help students and families better prepare for the next step after high school.
The program consisted of five Saturday sessions, with 25 high school students from 15 different Macomb County schools. These sessions introduced the teens about leadership, local government, small business and planning for college. The inaugural class celebrated its graduation on Nov. 23 at the Macomb Music Theater.
Smith expects the Junior Program to grow next year, and hopes to give the students more opportunities for job shadowing and mentoring.
"This was our pilot year," she said. "The program was very successful and the students and schools would like the program to continue and expand."
Oakland University is a vibrant academic community with more than 20,000 students and more than 260 degree and certificate programs. To learn more about academics, achievements, and events at OU, visit the news site at
oakland.edu/newsatou
and follow the news team on Twitter at
@OaklandU_News
.
Karen Smith and Leadership Macomb are reaching out to the youth of the community through Junior Leadership Macomb.

Created by David Groves (groves@oakland.edu) on Thursday, January 2, 2014
Modified by David Groves (groves@oakland.edu) on Friday, January 3, 2014
Article Start Date: Thursday, January 2, 2014